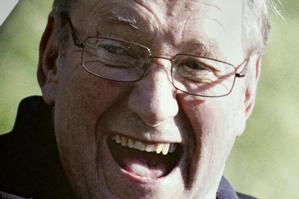 Dr Graham Robinson, the Auckland cyclist killed by a hit-and-run driver near Helensville last week, was remembered yesterday for helping to restore the life of a friend who almost died in similar circumstances.
"He was a tower of strength to me," said fellow North Shore GP and cyclist Chris Boberg of the care and friendship Dr Robinson gave him after he suffered a serious head injury from being knocked from behind three years ago by a car travelling at more than 100km/h.
"He helped to walk me out of a pretty tricky recovery with all his knowledge but also being a close friend - he helped me get my life back into order. He was very very special, he was so lovely and kind."
His friend's expertise in aviation medicine, which led Dr Robinson into gaining flying and aerobatics licences, also provided a special understanding of traumatic brain injuries
Dr Boberg was reluctant to dwell on his crash, given the tragic loss of his friend and colleague, with whom he had returned to cycling about a year ago on his pathway to recovery.
But having been struck by a recidivist driving offender himself, he feared whoever knocked down Dr Robinson on a straight downhill stretch of Peak Rd in a Toyota Hi-Lux ute just before 9am on Wednesday last week was of a similar mentality.
"How the hell can another one of these guys come out of the woodwork and do this?" Dr Boberg said.
"It's got to bloody stop. There's a small percentage of these bloody recidivists and this is what it's bound to be in this case as well or he would have stopped. He would have been a human and stopped and helped.
"I wasn't supposed to live but I did, and I got to recover and do everything Graham's not going to be able to do."
Dr Robinson, a father of five children and grandfather to seven, was on a training ride for a heart charity race with another doctor when he was hit from behind just before 9am on Wednesday on Peak Rd.
North Shore specialist anesthetist Peter Kalinowski was cycling 25m to 30m behind him and called out that a vehicle was approaching. Although Dr Kalinowski worked on his companion before an ambulance arrived, Dr Robinson died in the company of his family the following evening.
Dr Boberg, who rode regularly with Dr Robinson and had arranged to meet the pair on his own bike, said he arrived at the crash scene to find everything possible being done for his friend.
He said the weight disparity between cyclists and motor vehicles was so great there was an urgent need for attitudinal and law changes to protect vulnerable road users, as was the case in most civilised countries.
He said Dr Robinson was a stickler for showing tolerance and courtesy to drivers, and had moved even further towards the left shoulder of Peak Rd when alerted to the approaching ute.
Dr Boberg praised the police for their exhaustive efforts to trace the offending driver, which have included door-knocking, road checkpoints and combing through the motor vehicle register for Hi-Lux models of about the 1980s to 1990s.
"They are really on the case and doing their best to find the needle in the haystack," he said.
Dr Robinson's family, in a statement issued through the police, also appealed yesterday to the driver to come forward.
"We appreciate all the love and support we have received in relation to the tragic death of our husband, father and poppa, a wonderful person who we miss immensely," the family said.