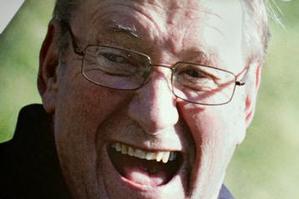 The North Shore doctor who died in a hit-and-run last week was warned seconds before a white ute swerved into him, say police.
Studies of the straight stretch of road where Graham Robinson, 62, was flung over the handlebars of his cycle seven days ago, showed the driver passed Dr Robinson's companion before swerving into Dr Robinson and then veering away sharply without stopping, Orewa police Detective Mark Palma said.
He said the second cyclist, riding about 25 metres behind Dr Robinson, yelled a warning that a vehicle was coming, prompting Dr Robinson to move further to the left to give the vehicle more room to pass.
Dr Robinson suffered fatal head injuries in the incident on Peak Rd near Helensville northwest of Auckland.
His fellow cyclist, also a doctor, worked frantically to keep him alive and stayed with him in the ambulance. Dr Robinson died the next day.
Mr Palma said it was "very likely" the driver knew he had hit Dr Robinson because their studies showed the white Toyota ute immediately veered to the right after the impact.
"He has cut right in on the deceased cyclist and immediately on cutting in on him, he has veered away," he said.
He said police did not know if it was a deliberate or non-deliberate move.
The vehicle was a white or off-white Toyota ute, possibly from the 1980s or 1990s.
Dr Robinson and his friend were training for a New Zealand Heart Foundation charity ride from North Cape to the Bluff in February to raise funds for heart research.
Before he died Dr Robinson set himself a target of raising $10,000 in the charity ride. Since his death friends, colleagues and patients had rallied to support the charity and by late afternoon today, donations were close to the target.
Mr Palma said police had been knocking on doors in the area today and had been getting an "excellent" public response in their search for the driver .
He said police had searched motor vehicle ownership records for white Toyota utes and had a lot of people to interview.
- NZPA