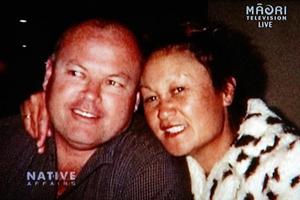 The former partner of deceased Napier gunman Jan Molenaar has described her relationship with him as "awesome", but also one where he bullied her into selling cannabis.
In the Napier District Court yesterday, Delwyn Keefe, 44, gave evidence during a disputed facts hearing in front of Justice John Wild.
The dispute centres over the credibility of a three-hour video interview Keefe gave on the morning of May 20 to Detective Todd Lee at the Napier Police Station.
The Crown says Keefe admitted during the interview to selling cannabis, in quantities up to an ounce, continuously between 2004 and May this year.
Five thousand dollars in Australian currency was found at Molenaar's Chaucer Rd address.
The Crown says it came from the sale of cannabis and was for Keefe to use as spending money on a trip to Brisbane to see her brother.
Keefe told the court she only sold cannabis because Molenaar bullied her into it.
"He would get very angry ... He would say 'You do as you are told', so I would do it."
Molenaar would arrange and order her to do deliveries.
She sold cannabis on the "odd occasion", in small amounts, and on three occasions sold half-ounces of cannabis.
Molenaar dealt with the "big stuff", including selling ounces.
Cannabis was not sold continuously at the address because Molenaar had employment at various times and did not need to sell cannabis.
Keefe said she also worked long hours at Higgins Contractors as a machine operator, sometimes from 5am to 6pm, for three years until she quit three months ago.
She had her own income and the Australian currency found at the address had come from her earnings.
Keefe told the court her relationship with Molenaar was "awesome".
"He was my best friend ... He was honest and kind."
The interview on May 20 was obtained by police under "false pretences", Keefe said.
She had expected to go down to the station to sign papers so she could move back into the Chaucer Rd house that afternoon.
During the interview she was "emotional" and had not answered questions "properly".
Crown Prosecutor Steve Manning asked Keefe whether she had told the truth during the police interview and why she had not said anything then about Molenaar bullying her into selling cannabis.
Keefe replied she was upset at the time.
"That was the day I was going home and that was my hardest day, mate, when I was going home."
Mr Manning said she was "painting a contradictory picture" of a "great life" with Molenaar on one side and a man who ordered her to sell drugs on the other.
On May 7, Molenaar shot three policemen, Senior Constable Len Snee fatally, after they had arrived with a warrant to search for drugs at 41 Chaucer Rd.
The shooting sparked a two-day siege that ended when police forced their way in and found Molenaar dead from a gunshot wound, believed to have been self-inflicted.
Keefe was charged and later pleaded guilty to offering to sell cannabis and possession of cannabis for supply at the house on the day of the shooting, and selling cannabis over a period of more than five years.
She was remanded on bail for sentencing on December 4.
Justice Wild will review the tapes of the police interview. Police support high after siege - Page 3 NZH
For more articles from this region, go to Hawkes Bay Today