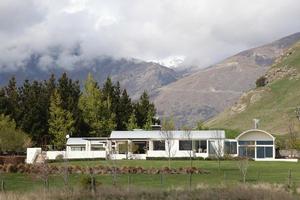 A luxury $4 million Queenstown home used for an American reality TV show was left trashed after contestants went crazy - damaging floors, walls and other furnishings.
The furious homeowner who rented the stunning property for the MTV show said he had to call in lawyers after becoming embroiled in a dispute to recover costs for repairs for the damaged house.
MTV's The Duel II - screening in New Zealand at present - used the secluded property, which overlooks Coronet Peak, for about three months last summer.
Twenty-six contestants lived in the house for the show, a cross between Big Brother and Survivor.
But the drama spilled into real life, including damage caused by a makeshift interior waterslide.
Clips on YouTube also show two of the male contestants - CT and Adam - fighting, and Adam being left with a bloodied face, which was treated in hospital.
During a reunion show, filmed at the end of the series, three of the contestants describe what viewers didn't see. "What we didn't see was the blood - bloody handprints of Adam down the hallway," says contestant Jenn.
"What we didn't see was Adam scrambling through the house ripping at the curtains trying to find a window out."
Another contestant, Rachel, adds: "Like, it honestly looked like a horror film had been filmed in there."
Damage from the three months of filming is understood to have run into tens of thousands of dollars.
"It was pretty bad ... My house now has been completely repainted [and] all the floors have been done," said the homeowner, who spent time in Borneo with his partner while the show was being filmed. He did not want to be named.
"The problem I had was they would not accept responsibility for some of the damage they did and I had to fight to get my money out of them." He confirmed the contestants had built a makeshift waterslide inside - "well, we don't know if was water, oil or soap".
The homeowner said red wine stains were also left over the marble floors, all of which had to be resealed and polished.
"I was a bit shocked by the lack of supervision and they were allowed to get away with it. I am a building contractor ... anything you do in a house, like, if your house gets trashed, it's only money that will fix it."
The homeowner would not reveal how much he had settled for, saying he had signed a confidentially agreement.
In a statement yesterday, production company Bunim-Murray Productions said it had had a "wonderful experience" filming in New Zealand.
"As always, if a property is damaged during production, it is repaired and returned to the owner as it was originally found."
Prompted further, the company emailed another statement, saying that with any filming there would always be "wear and tear". The damage done to the floors was repaired when the property was returned to the owner. We do not disclose financial details of the production."
Meanwhile, the homeowner - who is selling the property - is a reluctant viewer and only because he wants to see what really happened inside. "I think it's quite a stupid programme."