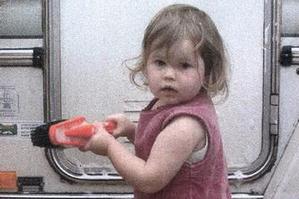 The mysterious Asian woman seen with Aisling Symes was mentally unwell and has a history of trying to lure children into cars with lollies.
The Herald has learned the woman was from the Philippines, had a dog and fitted the general description given by the 9-year-old who saw her approach the toddler just after 5pm last Monday week.
The woman was identified as police profiled "persons of concern" living near Longburn Rd in Henderson, where Aisling went missing.
When a large-scale search did not find the 2-year-old, police believed she might have been the victim of an "opportunistic abduction".
As the woman was the last person seen with the toddler, she was their strongest lead.
Throughout the investigation, inquiry head Inspector Gary Davey repeatedly said police were keeping an open mind, but urged the Asian woman to come forward.
On Monday night, Aisling's body was found in a stormwater pipe close to the house of her deceased grandparents in Longburn Rd.
Police then said they had located the Asian woman, but refused to identify her.
Detectives spoke to the woman on Tuesday night, and Mr Davey said police were "satisfied she's unable to help us further".
He refused to discuss the conversation and said the woman was no longer part of the investigation.
"We had to cover all possible scenarios, including abduction, and tease out all lines of inquiry, including sightings of an Asian woman in the area."
Mr Davey said police valued their relationship with the Asian community, but locating the woman was "a necessary part of trying to find Aisling".
Hundreds of people are expected to gather at a funeral service for Aisling at the Ranui Baptist Church this morning to remember "a cherished little girl".
As flowers and messages of sympathy pour in from throughout New Zealand, parents Alan and Angela Symes have opened the service to the public, but asked mourners to respect their privacy and grief.
"It's not just our family who are grieving for Aisling," they said.
"So many people are sharing our loss, and it is for this reason we are happy for members of the public to attend."
The service will be led by Pastor Russell Watts. It will include family tributes and music, and will be followed by a private cremation.
Because of the large number of people likely to attend, the service will be relayed to screens in the church cafeteria, the adjoining youth hall and outside the church.