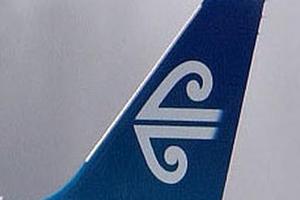 Airports around the country faced chaos yesterday when a computer failure forced Air New Zealand to check in thousands of passengers manually.
The failure at 10am stopped online bookings, call centre systems and check-ins, affecting at least 5000 passengers.
Travellers were given a written boarding pass and bag tags were issued one by one, causing long delays to flights. The failure came as people were making their way home from school holidays.
Most systems were running again by mid-afternoon but by that time flights were more than two hours behind. Self check-in kiosks could be used again by 3.30pm and the electronic system for checking people in was back at 1.40pm.
Air New Zealand general manager short haul airlines Bruce Parton said the computer failure was unprecedented. Parts of the system had had problems before but nothing as dramatic as yesterday's failure.
The airline would seek answers from IBM but the priority yesterday was getting the systems back up and moving passengers.
Mr Parton said staff on days off came in voluntarily to help manage the manual check-in. The airline opened about 10 extra counters while the system was down.
"It's just slow is the issue for us obviously, it's just a paper-based system," he said.
Today Mr Parton told Radio New Zealand Air NZ would meet with IBM today to look at what the issue was and "to get some confidence that such an occurrence won't happen again."
"Ten thousand-plus customers affected on the last day of holidays and millions of dollars of revenue not going through our online site, you can be assured we'll be having some very serious discussions with IBM today."
An IBM spokeswoman yesterday said power failure affected a back-up generator at IBM's Newton data centre at 9.03am, which disrupted services for clients.
The spokeswoman did not mention Air New Zealand but continued: "The power was restored at 9.05 and was fully functional by 9.55 with service to most clients being reinstated. One client's system in particular was badly affected and our technical support team has been working with them to resolve the systems issues."
Among the hundreds at the domestic terminal at Auckland Airport were the Salmon family, waiting to fly home to Tauranga after a 10-day campervan tour of the South Island.
Mr Salmon said the computer failure had shown him how important it was to have a back-up server.
He runs a medical practice and keeps a back-up server at another location "just so we don't lose anything".
Another traveller, Ken Batten, said the delays were made worse when several different flights were called at once.
"Why not do it one at a time, it's nonsense."
The Nelson man had an operation on Friday and found standing in the queue difficult so his wife held their place.
- With NZPA