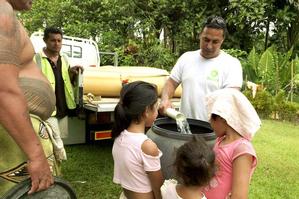 New Zealand and Australia will jointly give $12.2 million in aid to help Samoa rebuild after the tsunami which took more than 180 lives.
The Government yesterday said the two countries would each provide about $6.1 million toward essential services and infrastructure such as housing, water, power and roads.
The aid announcement came just before last night's memorial service in Waitakere organised by Auckland's Samoan community.
Prime Minister John Key spoke at the memorial service and laid a wreath, paying tribute to Samoa and those who lost their lives in the tsunami, including eight New Zealanders.
A national memorial service was held in Samoa on Friday, during which 11 of those who had died were buried.
Many of the villages and resorts on the southern coast of Upolu island were wiped out in the tsunami.
After meeting Samoan Prime Minister Tuilaepa Sailele Malielegaoi a week ago, Mr Key estimated the cost of rebuilding would exceed $100 million.
A joint statement issued by New Zealand Foreign Minister Murray McCully and Australian Foreign Minister Stephen Smith yesterday said the aid money would go directly to the Samoan Government, which had been effective in co-ordinating the response to the tsunami and identifying the priorities for reconstruction.
Tuilaepa has also asked for help from other countries, including the United States, Japan, China and the European Union.
New Zealand has already given $2 million in emergency aid to help with the immediate aftermath. It has also sent medical, military and search and rescue teams. The HMNZS Canterbury left at the weekend with supplies.
The European Union has also promised to assist and has committed to give about $3 million on top of its initial donation of $300,000.
China has also been reported as giving US$100,000 ($134,788) for direct emergency relief work and a further US$30,000 toward Red Cross efforts in Samoa. It had also pledged materials worth about US$290,000.
How to donate to tsunami relief operations:
Pacific Cooperation Foundation
Deposits can be made at at any Westpac branch. All the money raised will go to the Samoan Government
Red Cross
- Make a secure online donation at redcross.org.nz
- Send cheques to the Samoan Red Cross Fund, PO Box 12140, Thorndon, Wellington 6144
- Call 0900 31 100 to make an automatic $20 donation
- Make a donation at any NZ Red Cross office
ANZ bank Make a donation at any ANZ bank branch, or donate directly to the ANZ appeal account: 01 1839 0143546 00

Oxfam - Make a secure online donation at Oxfam.org.nz - Phone 0800 400 666 or make an automatic $20 donation by calling 0900 600 20

Caritas - Make a secure online donation at Caritas.org.nz
- Phone 0800 22 10 22 or make an automatic $20 donation by calling 0900 4 11 11

TEAR fund - Make a secure online donation at tearfund.co.nz
- Phone 0800 800 777 to specify Samoa the Philippines or Indonesia. You can also donate at CD and DVD stores.

Mercury Energy - Donate at mercury.co.nz
or text the word Samoa followed by the amount you wish to pledge and your Mercury account number to 515 or by calling 0800 10 18 10.
Habitat for Humanity Habitat for Humanity is asking for help with the clean-up habitat.org.nz

Unicef Make a secure online donation unicef.org.nz
or phone on 0800 800 194