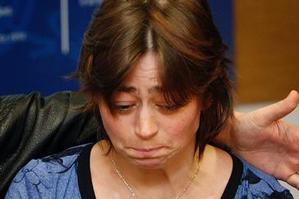 Angela Symes' heartbreaking sobs say more than words ever could. She and husband Alan just want their little girl back.
The couple step into the spotlight at Henderson police station to appeal to whoever took 2-year-old Aisling from them on Monday night, to whoever created the nightmare their world has become.
Throughout the press conference, Angela keeps her head down and her eyes lowered, listening carefully as Inspector Gary Davey and then Alan speak to dozens of reporters.
She sits with her body slightly turned towards Alan, their hands clasped, and breathes deeply as the police officer talks directly to whoever abducted Aisling and changed her family's lives forever.
He says the only focus is the safe return of Aisling. The couple look to each other and Alan whispers something in her ear.
Whatever he said, she appears to get some strength from it. Her head lifts slightly. She can go on.
When talk turns to the police hopes that Aisling is still alive, she nods.
Alan wraps his arm around her as reporters question Mr Davey.
Everyone wants to know if there is a suspect. What of the mysterious Asian woman reportedly seen talking to Aisling before she disappeared? How can people help Alan and Angela?
Then it's Alan's chance to speak. He describes a living hell.
They haven't slept or eaten and it feels like they're "barely existing".
He gives an insight into the family's harrowing existence since Monday night. They sit huddled together, he says, wondering if their little girl is close, or if someone has taken her far away.
He wonders if she is being treated well. He worries about little things that prey on a father's mind such as whether her nappy has been changed. He concentrates hard as he reads his statement but appears amazingly calm. He rubs Angela's shoulder and continues.
Their grief, he says, has been shared by all New Zealanders and they want to thank those who've offered kind words.
He thanks their church for its support and the gold cross on a chain that Angela wears around her neck.
At this point, the incredible strain on Angela begins to show. She trembles slightly and buries her face into Alan's shoulder.
Their bravery is remarkable. Alan's voice only wavers right at the end when he pleads for anyone with any information about Aisling to talk to the police. Quickly.
"We want her back. Please, if you have any information, anything at all, please come forward. Thank you."
Angela stands suddenly and leaves quickly. Her husband rushes to catch up. Angela has one arm across her chest as she walks out, head down.
And then those sobs. Loud sobs that can be heard through a closed door, sobs that cut through everyone.
Heartbreaking cries from a mother who wants her baby back.
Phone police on 0800 4 Aisling (0800 4 2475464) if you have information on the case.