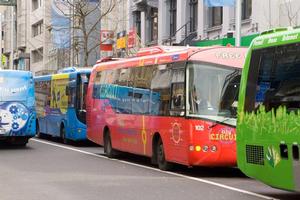 Monthly and weekly bus pass holders could be out of pocket tomorrow as Auckland's bus lock-out goes ahead, causing chaos to 80,000 commuters.
A lockout of indefinite duration threatened by NZ Bus in response to a notice of industrial action from unions representing drivers and cleaners is expected to put 700 buses off the road tomorrow, which includes the Metrolink, North Star, Go West, Waka Pacific, Link and City Circuit buses from 4.30am.
Which services will be disrupted?
One bus patron, Shaun Hayward has written to NZ Bus, complaining that monthly pass holders like himself will be left out of pocket by the company's lock out.
In an email sent to the company and nzherald.co.nz, Mr Hayward said he takes no side in the dispute that has now been on-going for months.
He said having paid money for a monthly pass that pass will, tomorrow, be useless.
"With this in mind, what is NZ Bus proposing to do for the many that have already paid in advance for services (in the form of passes, and multi-trips etc.) that your company has now wilfully cancelled? I assume that if NZ Bus has gone to the extreme measure of cancelling services, consideration has been made to accommodating affected customers, as it would seem somewhat socially irresponsible if this is not the case.
"If you could answer this question, without resorting to the bland corporate 'we are looking into options', this would be appreciated," Mr Hayward said.
NZ Bus spokeswoman Siobhan O'Donovan said the company is looking into the problem and was preparing a response for Mr Hayward.
"I know he didn't want us to say that but it is not something we have had to do up until this point," Ms O'Donovan said.
She said weekly and monthly ticket holders should log on to the company's website
and register their card number so the company can get in touch with them.
Ms O'Donovan said NZ Bus operations manager Zane Fulljames was looking into the matter.
She said she was not aware of how many people held weekly and monthly bus passes.