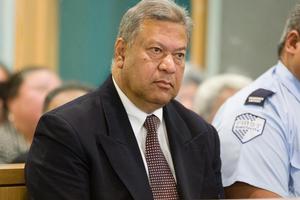 The theatre of justice can be numbingly routine. Phillip Field's sentencing had elements of high expectation - the country's first Pacific Island MP who became the first MP to be prosecuted for bribery and corruption, the final act in the four-year pursuit of a community leader.
But courtroom ritual leaves little room for drama, particularly when the subject is intent on going down with dignity.
Court 15 in the High Court at Auckland was an inadequate venue for the audience of about 100 supporters, most from the Mangere electorate Field represented for 12 of his 15 years in Parliament.
The largely Samoan support base, many of them elders or extended family, overflowed from the public gallery to a tightly packed foyer.
Most say Field's convictions stem from cultural misunderstandings, but they sat or stood in silence. The elephant in the room was the Samoan concept of faama - the public shaming of a leader.
There was respect when Field's wife Maxine entered, helped by a supporter, and sat in the back row of the court. She looked pale, her eyes reddened.
Field sat upright in the dock between two burly security guards, staring intently ahead. He clutched a well-thumbed red Bible; his wife clutched tissues with which she occasionally dabbed her eyes.
For more than two hours, prosecutor Simon Moore, SC, and defence lawyer Paul Davison, QC, put their sentencing submissions, citing case law in a case which had no direct precedent.
Field was inscrutable as Moore recounted the increasing audacity and extravagance of his offending. He listened more acutely to Davison's pleadings in mitigation, but appeared a man resigned to what was to come.
Maxine's mood waxed and waned but the gravity of the occasion gradually overwhelmed her. Family members moved to comfort her.
Not long after Justice Rodney Hansen began the sentencing Field placed his Bible on the bench between him and the judge. He continued to listen intently as Justice Hansen reviewed the 26 charges on which he was convicted, stressing that Field had exploited the gratitude of Thais who had approached him for help in immigration cases.
A couple of times he flinched, his head rose and his eyes rolled slightly - indicating he took issue with the judge's summation. But mostly he was impassive.
The only moment of theatre came after the six-year sentence was delivered and an activist from the Southern Council of Chiefs rose to challenge the court - the equivalent of a heckler in the audience.
When Field was taken down, a supporter called: "Be strong Phillip." Others wished him well in Samoan. He turned and smiled and waved his Bible - the last, dignified rites on a fall from grace.
The public shaming was complete.