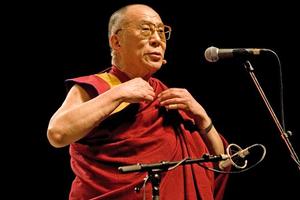 Two months after sending the Prime Minister an invitation to meet the Dalai Lama, organisers of the Buddhist leader's New Zealand visit say they have not received a response.
The 73-year-old exiled Tibetan spiritual leader is scheduled to be in Auckland on December 6, where he will speak at the Vector Arena.
Mr Key said before last year's election that he would meet the Dalai Lama as Prime Minister.
But his spokesman told the Herald that "a decision is yet to be made on this invitation".
"I hope John Key's decision to wait till the last minute is because of his busy schedule, and nothing to do with fear of harming relations with China," said Thuten Kesang, chairman of the Dalai Lama Visit Trust.
China regards the Dalai Lama as a separatist and is opposed to any world leaders meeting him.
The United Chinese Association of New Zealand - an umbrella group representing 28 local Chinese organisations - wrote to Mr Key in April asking the Government not to grant him a visa.
The Dalai Lama fled to India 50 years ago when China crushed an uprising in Tibet.
A decision by United States President Barack Obama to postpone his first meeting as President with the Dalai Lama is overshadowing a visit to Washington this week by the exiled leader.
The Dalai Lama arrived on Monday in Washington and will be received by prominent politicians.
But the focus for many in China, Tibet and the United States is the President's decision not to meet the Dalai Lama until after he visits Chinese President Hu Jintao in Beijing next month.
This week's trip comes at a delicate time for a new US administration looking to improve relations with Beijing and win Chinese support for crucial foreign policy, economic and environmental goals.
The Dalai Lama's visit to Canada last weekend was met with protests from dozens of Chinese Canadians and Chinese students calling him a "hypocrite" and a "liar", said to China's Xinhua news agency.
Friends of Tibet New Zealand last week issued two postage stamps depicting the Tibetan flag to mark 50 years of "illegal occupation" of Tibet by China.
Mr Kesang says he will be keeping a close eye on the visit of exiled Uighur leader Rebiya Kadeer next week, to see what sort of reception and reaction she receives in Auckland.
China considers Ms Kadeer a terrorist and is also opposed to any foreign countries giving her a platform to engage in anti-China separatist activities.
Mr Key said on Monday that the decision to issue Ms Kadeer a visa rested with Immigration Minister Jonathan Coleman, and Green MP Keith Locke said yesterday thathe had written to Dr Coleman detailing Ms Kadeer's itinerary inAuckland.
"By and large, the Uighurs and us Tibetans are in the same pot of soup," Mr Kesang said. "The people are still suffering under the oppressive communist regime.
"After five decades, Tibetans continue to be denied the basic right to freely express their identity and practise their religious and cultural traditions."
- ADDITIONAL REPORTING: AP