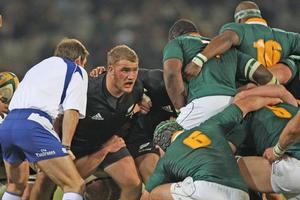 Maori TV's Rugby World Cup commentary would mainly be in English but 5 to 10 per cent will be peppered with Maori phrases.
The Maori component would be made up of definitions for commonly used terms, such as drop goal or scrum flashing up on screen and by the commentator making certain calls in Te Reo then repeating it in English.
The amount of Maori spoken would be so small that the majority of its presenters would not have to speak the language, and the Herald understands the station is expected to head-hunt the likes of Keith Quinn for commentary roles.
Maori TV is the front-runner to win the free-to-air rights from the International Rugby Board for the 2011 Cup after getting a multi-million dollar taxpayer-funded boost from Te Puni Kokiri, the Ministry of Maori Development.
Maori TV chief executive Jim Mather yesterday defended its audience reach, issuing a revised figure of 90 per cent on the ordinary analogue network.
This has raised concerns that towns like Russell, Paihia, Kaikohe, Wellsford, Warkworth, Wanaka and Queenstown could miss out.
But Mr Mather said Maori TV's reach became 100 per cent on the satellite network, which would require households in the black spots to get a Freeview box or basic Sky subscription.
Maori TV has a far higher bid than TVNZ and TV3 but it is understood the International Rugby Board is also keen because it has the flexibility to broadcast more rugby than the other channels as it does not have the same prime-time commitments, such as the nightly news.
A spokesman for IRB subsidiary Rugby World Cup, Ross Young, said in its opinion Maori TV's 90 per cent coverage of the country would "adequately give most people access to the games". He said the IRB was unconcerned about the Maori language component in broadcasts as well, as it regularly sold television rights to countries with more than one language.
The free-to-air rights cover 16 games, including all the All Blacks' pool matches, the quarter and semifinals, and the final.
Maori TV entered a bid after TVNZ and TV3 were rejected for what Mr Young described as "inappropriate" offers. Both channels have since resubmitted offers, which the IRB will discuss in Dublin this month.
Mr Mather said if Maori TV's bid was successful, it would deliver quality coverage that would "elevate the status of Maori TV in the the minds of all New Zealanders".
He said the rugby would be shown live on Maori TV with an English commentary, while a second commentary in 100 per cent Maori language would be broadcast simultaneously on its Te Reo channel.
He said the bid was developed with help from external sports production experts who had worked on the Olympics, Commonwealth Games and previous Rugby World Cups.
He said it should be noted that with basketball and league, Maori Television was producing as much sport as the other two channels.
Mr Mather said that if successful, Maori TV would engage contractors with expertise in international live sports events and supplement its own staff with the "best available external commentary team" although it was too early to say who this would be.
Prime Minister John Key said it would have been "helpful" if Maori Affairs Minister Dr Pita Sharples had consulted National before authorising the estimated $3 million top-up from Te Puni Kokiri.
Dr Sharples defended the taxpayer subsidy, saying the bid would create jobs, promote Maori businesses and help get New Zealanders to use Maori phrases in everyday conversation.
* Rugby in Maori
Kirimiti - scrum
Rutu mahunga - high tackle
Whana taka - drop goal
Piro whiu - penalty try