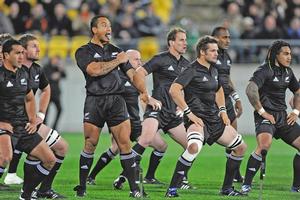 Thousands of people will miss out on free live cover of the Rugby World Cup if Maori Television's taxpayer-funded bid for the right to screen games succeeds.
Maori TV has used $3 million or more of public money from Te Puni Kokiri to boost its bid for the free-to-air rights well above those of TVNZ and TV3.
But unlike the commercial channels, Maori TV broadcasts to only 90 per cent of the country.
So people in towns such as Russell, Paihia, Kaikohe, Wellsford, Warkworth, Coromandel, Whitianga and Queenstown would miss out.

The only way they could get Maori TV is through Sky or by signing up to Freeview
The rights cover 16 matches, including the final, semifinals, quarter-finals and All Black pool games.
Maori TV has emerged as the frontrunner in the race for the rights after Maori Affairs Minister Pita Sharples authorised the funding boost.
The go-ahead was given without being referred to the Cabinet.
Mr Sharples said the bid created opportunities for Maori business and would create new jobs.
"I would also love to see iwi radio stations broadcasting games live on their networks, and all New Zealanders getting help and encouragement to use Maori words and phrases in everyday conversation," Dr Sharples said.
He said with the uptake Freeview, Maori Television will be available to more than 90 per cent of New Zealanders by the beginning of the Rugby World Cup in 2011.
The bid has been criticised by Labour's Rugby World Cup spokesman, Trevor Mallard, who said Maori TV "simply won't get [these games] to as many New Zealand houses".
There were also questions about the commentary and coverage team as Maori TV did not regularly cover rugby - although Mr Mallard believed this could be developed in the two years before the Cup.
Prime Minister John Key this morning said if a taxpayer-funded broadcaster wins a bid to screen Rugby World Cup games they should be able to be seen by everyone.
"It is my absolute expectation that all New Zealanders get an opportunity to view those 16 games free to air," Mr Key told Breakfast on TV One.
"And if Maori Television don't have that capacity then they'd better work out a way (to deliver)."
He would be unimpressed if MTS won the bid because they offered more money but could not deliver country wide.
"I would be very unhappy about that because the whole purpose of having a free to air service for 16 games ... is that wherever you live in the country you can see it."
Mr Key said MTS and TPK may face questions the bid money was a good use of funding.
"TPK I think would need to justify, the ministry in other words, to the New Zealand public that's the best use."
Brent Impey, chief executive of TV3 owner MediaWorks, said the public funding had skewed the tender process.
TV3 has a bid in, but Mr Impey said the rumoured level of Maori TV's bid was "simply not sustainable for a commercial broadcaster". Applying public money to a commercial event, competing against legitimate business interests, raised serious issues, he said.
Mr Impey said he did not know whether the IRB would assess the quality of the coverage the winning bidder could provide, or take whatever bid was the highest.
"The answer to that doesn't come from TV3. It comes from the International Rugby Board."
Neither Maori TV or IRB subsidiary Rugby World Cup Limited could be reached for comment yesterday.
Rugby World Cup Limited is meeting on October 11, and the winning bid will be announced soon after that.
- With NZPA