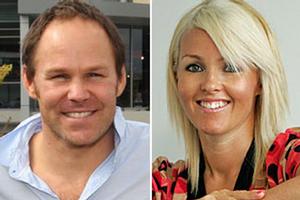 A fighter by name, a fighter by nature.
Former All Black Josh Kronfeld is a new dad - and his son is already proving he's as big a battler as his famous father.
Kronfeld's partner Bronwyn Illingworth gave birth two weeks ago to Cassius Ellis Kronfeld, but the baby boy spent the first week of his life in intensive care at National Women's Hospital.
Friends of the couple say he suffered medical complications, but that he is now at home. Visitors are apparently restricted because of the risk of infection.
Cassius shares the same name with the world's most famous boxer, Cassius Clay (later Muhammad Ali), although it is understood the couple liked the name for the Roman connotations, rather than the fighting ones.
Kronfeld's proud father, Ellis, who lives in Hawke's Bay, confirmed he had seen the baby boy for about a half a day. He had been in hospital for about a week, and would be monitored over the next 12 months. "He seems to be doing well, like he's feeding well so that's the main thing."
His wife had been with Josh and Bronwyn in Auckland. "My wife keeps telling me he's a gorgeous baby but I said they are all monkeys when they are born. All women say that [they are cute] but I can't see it," he joked. "When they are 2, then I can see it."