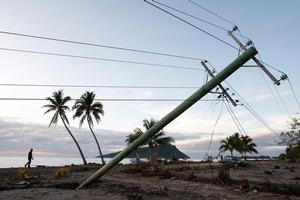 Members of Parliament are working alongside members of the public as a huge international relief effort gets under way in Samoa and Tonga.
The New Zealand Government has pledged an initial $1 million in aid.
Acting Prime Minister Bill English today said New Zealand was ready to assist Tonga but is yet to receive a request for aid in dealing with the tsunami disaster.
Speaking to Radio New Zealand, Mr English said Tonga would get part of the $1 million initial allocation of money to deal with the aftermath, but was "reasonably self-sufficient" in recovering from the disaster.
New Zealand, which had air force Orion and Hercules aircraft in the islands yesterday, is sending two more military aircraft today.
An air force Boeing 757 is carrying medical evacuation and search and rescue teams, while a Hercules will carry a light operational vehicle and a desalination plant to ensure fresh water supplies.
Mr English said Foreign Minister Murray McCully would be on one of the flights and would talk directly to Samoan government officials about what further aid was needed.
Prime Minister John Key, who is returning early from a holiday in the US, will fly to Samoa tomorrow.
The unofficial death toll from Wednesday's devastating earthquake and series of tsunamis stands at more than 150. Many of those killed were elderly people or children too weak or slow to run for the hills.
Two New Zealanders have died and one is missing, presumed dead.
Nineteen Kiwis have been injured in Samoa and some have been hospitalised, according to the Ministry of Foreign Affairs and Trade.
Walls shook and objects smashed when the 8.3 earthquake struck off the coast of American Samoa at 6.48am on Wednesday.
It lasted for about a minute and islanders watched as waves broke beyond the reef, heralding the approach of a tsunami, which struck about 10 minutes later.
Witnesses reported a wall of water up to 9m high after the quake. Waves pounded the shore for the next 20 minutes, wiping out whole villages.
Samoan PM Tuilaepa Sailele Malielegaoi said he was shocked beyond belief by the devastation.
The lucky ones made it to high ground, others held on for their lives, and some had loved ones wrenched from their arms. One mother watched as her three children were swept away.
An estimated 3000 people are homeless and seeking refuge in shelters set up around the worst-affected villages.
Most of the 20 villages on the southern side of the main Samoan island of Upolu have been levelled.
Two of Upolu's most popular resorts, Sinalei Reef Resort and Coconuts Beach Resort, were hit hard.
Joe Annandale, owner of Sinalei and regional mayor of the ravaged south coast, lost his wife Tui. Her body was found washed up in a tree after she tried to help some children.
At least 34 were reported dead in American Samoa yesterday. Nine were confirmed dead in Tonga and the toll was expected to rise.
People concerned about loved ones in Samoa can call 0800 432 111. The Ministry of Foreign Affairs and Trade is also asking those that have heard from family members to also call in case they are still believed to be missing.
So far 593 New Zealanders have been confirmed as alive and well. MFAT has received calls about approximately 800 people and are trying to contact 231 who they have received calls about.
- With NZHERALD STAFF
How you can help
Pacific Cooperation Foundation
Deposits can be made at at any Westpac branch. All the money raised will go to the Samoan Government
Red Cross
- Make a secure online donation at redcross.org.nz
- Send cheques to the Samoan Red Cross Fund, PO Box 12140, Thorndon, Wellington 6144
- Call 0900 31 100 to make an automatic $20 donation
- Make a donation at any NZ Red Cross office
ANZ bank Make a donation at any ANZ bank branch, or donate directly to the ANZ appeal account: 01 1839 0143546 00

Oxfam - Make a secure online donation at Oxfam.org.nz - Phone 0800 400 666 or make an automatic $20 donation by calling 0900 600 20