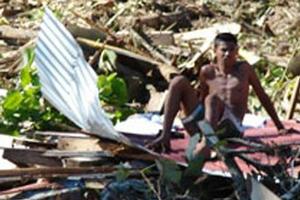 A group of New Zealand high school students spent a day and night stranded on a tiny island off Samoa, after watching the tsunami sweep away their belongings.
Thirteen students and three teachers from St Peter's College in Palmerston North had kayaked from Lalomanu to the tiny island of Namua the night before the earthquake and tsunami struck.
"The big rumble" at 6.50am woke up the Year 12 pupils and the group fled to higher ground.
"We lost everything except the shirts on our backs," said teacher Dave Scott.
They were stranded on the island the students spent another day and night on Namua, sleeping rough in the bushes.
Today the group were ferried back to Lalomanu and were greeted on the beach by TV host John Campbell, who filmed them for his show tonight.
The Herald spoke to the St Peter's group at McDonalds in Apia as they were preparing to fly home towards New Zealand.
Some of the students began crying as they shared their story.
"We were so lucky. It could have been so much worse," said Mr Scott.
The school group were supposed to be spending another night at Taufua fale at Lalomanu, but the accommodation was completely destroyed.
How you can help
Pacific Cooperation Foundation
Deposits can be made at at any Westpac branch. All the money raised will go to the Samoan Government
Red Cross
- Make a secure online donation at redcross.org.nz
- Send cheques to the Samoan Red Cross Fund, PO Box 12140, Thorndon, Wellington 6144
- Call 0900 31 100 to make an automatic $20 donation
- Make a donation at any NZ Red Cross office
ANZ bank Make a donation at any ANZ bank branch, or donate directly to the ANZ appeal account: 01 1839 0143546 00 Oxfam
- Make a secure online donation at oxfam.org.nz
- Phone 0800 400 666 or make an automatic $20 donation by calling 0900 600 20