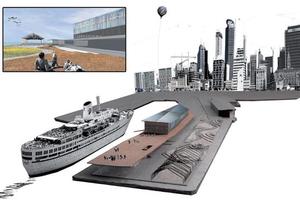 An architect based in Shanghai, Andrius Gedgaudas, is among five finalists selected to redevelop Queens Wharf for the 2011 Rugby World Cup.
A selection panel has described his design as a simple and strong public realm experience, featuring a gently inclined platform along the eastern side of the wharf with a contoured landscape treatment on the western side.
The other four finalists, selected from 237 design entries, are from Auckland. All five were chosen for their ability to strike the right balance between meeting the need for a great public space, act as a major celebration during the Cup and provide a world-class cruise ship terminal.
Other ideas include using the historic pattern of the wharf, major open space across the width of the northern end, a harbour pool within the perimeter of the wharf and simple sculptural forms for the cruise ship terminal.
The finalists have until October 23 to develop their designs further and, in the case of individual architects, bring on board other professionals to see through the $74 million development budget.
The selection panel has also chosen three teams from 25 expressions of interest, who did not put in a design entry, but have the capability to meet the project's tight timeframe.
The winner will be announced in November, leaving about 20 months to redevelop the historic wharf at the bottom of Queen St, which operates as a used car lot and banana warehouse.
In June, the Government and the Auckland Regional Council announced they had paid $20 million to buy the wharf from Ports of Auckland. Prime Minister John Key said it would be turned into "party central" for the Cup in 2011.
Government ministers, local body leaders and council chief executives approved the shortlist of designs in conjunction with a panel of design experts.
Among other factors, the finalists must protect harbour views.
TEAMS
Apart from the finalists, the selection panel has chosen three teams who have the capability to undertake the project:
Tasman Studio - Warren and Mahoney, Moller Architects, Boffa Miskell, Beca, BEA Architects, Miami
Jasmax/Architectus - Jasmax, Architectus, RCP, Aurecon, Opus, Marshall Day Acoustics
Watershed - Stevens Lawson ARchitects, Tonkin Zulaikha Greer, Taylor Cullity Lethlean, Homes Consulting, eCubed Building Workshop