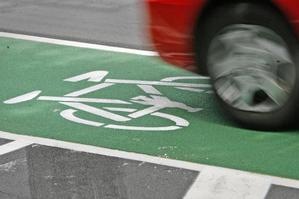 Auckland cyclists and motorists are accusing each other of being arrogant, discourteous and rule-breakers in a fierce debate on nzherald.co.nz.
Since the weekend incident on Tamaki drive in which a car drove into a group of cyclists, seriously injuring one of them, hundreds of readers have expressed strong views on the issue.
There appears to be no middle ground in the debate. Motorists accuse cyclists of being arrogant, riding four abreast and going through red lights. Cyclists complain that it is motorists who are arrogant, ignore stop signs and red lights, open car doors in the path of cyclists and treat them as if they don't belong on the road.
Some readers argue that it's a minority in both camps who set bad examples. A club cyclist of 21 years' standing says the angst some cyclists cause to motorists by poor and illegal behaviour such as running red lights or riding through pedestrian crossings is inexcusable.
Some readers argue that the issue is a deeper one reflecting New Zealanders' attitude to each other, a cause of why Kiwis regard themselves to be a nation of bad drivers.
Said a Papamoa reader, calling for a cultural change: "The typical, self-absorbed New Zealand driver is unsafe to everyone and to each other. It's not just cyclists who are at risk from the attitude that 'everyone is in my way' and 'to hell with them."'
A Kaikohe resident has returned from a trip to the United Kingdom where he observed that traffic moves much faster and in tighter circumstances. "There courtesy generally prevails, and everybody benefits. Grow up New Zealand road users, lose the attitude."
There has been no shortage of bikers' stories of injuries. A Bay of Plenty reader stopped road cycling after being "taken out by an idiot coming the other way and on purpose, apparently just for a laugh". So I understand the frustration of cyclists who feel like they've a target on their back."
An Auckland Central cyclist was among many riders who called for more respect on both sides.
"As a cyclist, I constantly have to deal with drivers speeding, changing lanes without indicating, yabbering away on their phones while not taking note of 'obstacles' (me) on the road, and an all-round disregard for anything on the road that isn't a car.
If I move to the footpath, then pedestrians become enraged. It seems as though cyclists have to endure a kind of 'transport purgatory' while in transit as they don't really have any place they can fit in and feel safe.
"It would be great to see a cyclist-only lane, but as that seems unlikely, I would ask that everyone (including the cyclists) exercise respect for general road safety."
- NZ HERALD STAFF