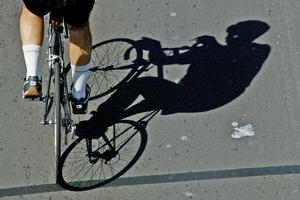 A weekend accident that left a cyclist in hospital with serious injuries has reignited debate over cyclists' rights on one of the city's most popular streets.
Engineer Greg Paterson was in a group of cyclists hit by a car on Saturday.
He suffered critical injuries and was last night in a stable condition in Auckland City Hospital. Three others were hospitalised with broken bones, and were also listed as stable last night.
Cycle Action Auckland co-chairwoman Barbara Cuthbert said the crash was a "real source of worry", and organisation members felt increasingly threatened when cycling.
She said Cycle Action had recorded cyclist numbers reaching 1000 along Tamaki Drive, Auckland, the scene of the accident, on a weekend morning, but most of the large groups were off the road by 7am.
Ms Cuthbert did not advocate closing the road off to cyclists as everyone walkers, motorists, joggers liked to enjoy the harbour views.
"There is no other road in the Auckland region that has the views that Tamaki Drive has."
She hoped Auckland Mayor John Banks would be prepared to discuss options such as narrowing the traffic lanes to provide more space for cyclists, and lowering the speed limit to 40km/h on Tamaki Drive.
The cycle lanes already running along the Tamaki Drive footpath were not practical for most cyclists, because they were potholed, and crowded with pedestrians and their dogs, she said.
"It would be different if cyclists were people we didn't want to see but the council's policy is to increase cycling," she said.
But not everyone is in favour of concessions to cyclists on the roads.
St Heliers/Glendowie Residents' Association member Guy King said although he did not know who was to blame for Saturday's crash, he often saw cyclists riding dangerously.
Mr King - himself a former cyclist - walked along the waterfront most mornings, and had seen cyclists speeding and running red lights.
"The cyclists out there have absolutely no consideration for motorists at all. They are supposedly by law meant to ride in single file, but nine times out of 10 they don't. I have started counting and the biggest group has been 52 cyclists in one hit, riding three abreast," he said.
"They literally take over the road."
This month the city council started researching a proposition to create national cycleways around Ponsonby, Maungakiekie and Tamaki Drive.
Bike NZ is also circulating a petition calling for changes to road rules to give cyclists 1.5m when passing.
Green Party MP and spokesman for cycling Kevin Hague suggested it was necessary to police bike laws so that, like speeding, motorists would become "tuned in" to bikes.
The New Zealand Transport Agency lists the most common causes of cycle collisions as moving through or turning at intersections, opening a car door, reversing or moving out of driveways or parking spaces and passing groups of cyclists.
* The rules of the road
RULES FOR DRIVERS
Give cyclists plenty of room when passing. Allow at least 1.5m between you and the cyclist.
Wait for a clear space before passing a cyclist on a narrow road.
At intersections, apply the same rules to cyclists as for other traffic. Take care to indicate turns.
Only drive across cycle lanes when entering or leaving side roads, driveways or parking spaces.
Give way to cyclists if you are crossing a cycle lane.
Be extra careful around young cyclists.
Do not drive in a cycle lane.
RULES FOR CYCLISTS
Wear your helmet.
Do not ride more than two abreast.
Ride in single file when passing other vehicles, including parked vehicles.
Use a clear arm signal if you intend to turn, reduce your speed or stop.
At intersections follow the same rules as drivers, otherwise walk across.
Stick to the cycle path where there is one. Where there is no cycle path, use the road, staying as far left as possible.
Only ride on the footpath if delivering newspapers, mail or leaflets.
You may use a bus lane to cycle in as long as there is no sign prohibiting this.