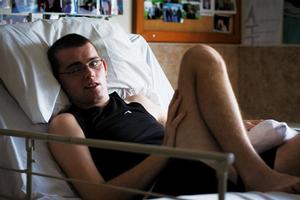 An English student who was shot while hunting in New Zealand has raised $5000 for the hospital that saved his life.
Despite being told he would not be able to walk again, Matthew Purchase, 23, today completed a 500m sponsored walk near his family farm in Dorset, England, in aid of Waikato Hospital's intensive care waiting room.
Mr Purchase's parents, Ian and Helen, spent several weeks sitting in the room after their son was shot in the head by a .22 rifle while rabbit hunting at the Putaruru farm in December 2007.
"When we arrived at the hospital, we were probably as stressed as we had ever been in our lives and worried sick over what was happening - the waiting room only made the problem worse," Ian Purchase said.
"There wasn't much room to sit down and to try to come to terms with what was happening without a complete stranger looking over our shoulders, which made it even more stressful."
Ian Purchase said his son was absolutely exhausted at the end of the walk, but that he was thrilled to have raised money for the hospital.
"It really did take a monumental effort from him and he deserved every penny of his sponsorship money," he said.
The shooting left Mr Purchase permanently disabled, with no vision in one eye and just partial sight in the other.
The Danish tourist who accidentally shot Mr Purchase, Bjarne Jensen, was cleared by a High Court jury in Rotorua last November of careless use of a firearm.
- NZPA