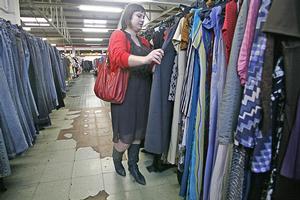 A cut-price clothing chain has banned dealers from bulk buying prime stock to sell for a profit - and clamped down on internet criticism of their stance.
SaveMart owner Tom Doonan said Trade Me users were the biggest problem but the rules also applied to second-hand dealers.
"They clean us out of all the trendy labels and we want those labels for all our regular customers," he said.
SaveMart collects and sorts used clothing donated to charity bins around New Zealand.
Usable clothing is sold at 31 shops alongside stock sourced elsewhere, with donations made to charities.
Doonan said he knew of one online dealer who boasted of making a $200 profit on boots bought from SaveMart.
Signs have gone up at some stores warning customers of the ban on bulk buying.
Staff at Auckland outlets said they looked for people who bought large volumes of clothes in different sizes without trying anything on.
One said Trade Me buyers were easy to spot because they spent up to $800 at a time, particularly on designer brands.
"It's because of those people that our prices are going up," she said.
The Herald on Sunday was told the no-dealers policy extended to carpark patrols to check how much clothing shoppers had in their vehicles.
Complaints about the crackdown on Trade Me message boards prompted a swift response from Doonan - who phoned one writer and threatened defamation action.
The Christchurch woman said she was shocked and felt "a little bit vulnerable".
"I don't believe I've done anything, I was just expressing an opinion," she said.
Doonan confirmed the company had made contact with some people who had made "untrue and defamatory statements about SaveMart".
The company had received several apologies and all the postings about SaveMart had disappeared within 24 hours.
"All the people spoken to are traders who we would refuse to supply in bulk.
"In light of the apologies and assurances we have received we don't need to take the matter further."
Trade Me spokesman Daniel Bridges said a message board thread about SaveMart had been removed after a "concerned call" from the company.
Bridges said about 60,000 Trade Me members sold second-hand clothing, but fewer than 50 sold more than 100 items a month.
He said Trade Me had "respect" for SaveMart's charity fundraising.
Paul Doocey from Consumer New Zealand said retailers were entitled to turn away buyers for any reason - unless they discriminated on grounds that would breach the Human Rights Act, such as age or disability.
Buyers were entitled to resell items how and when they liked as well.