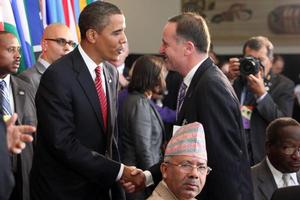 NEW YORK - United States President Barack Obama spoke glowingly of New Zealand during two brief meetings with Prime Minister John Key in New York today.
As the 160-plus world leaders attending the United Nations this week jostled for a moment with the new president at his first General Assembly, Mr Key was singled out for two meet and greets. Sources tell NZPA that the New Zealand leader got more attention than many others Mr Obama met.
"He's gone out of his way to make me feel welcome," Mr Key said this evening.
Mr Key and the president met for the first time when Mr Obama approached the prime minister unexpectedly at a lunch hosted by UN Secretary-General Ban Ki-Moon.
The pair chatted for two or three minutes.
"Well it was great, he came up, I was sitting at my table and he came over and said `look it was great to see you, fantastic to have a chat on the phone, (I) look forward to seeing a lot more of you."
Former prime minister Helen Clark, now head of the United Nations Development Programme, was at Mr Key's table and was introduced.
In the evening at the US presidential reception for the General Assembly leaders Mr Key had another opportunity for a quick chat.
"It was good to meet him twice, as it turned out today, and he's obviously very keen on New Zealand. He was speaking very eloquently but also effusively of New Zealand so that was great."
Mr Obama had a friend living in New Zealand who had raved about the country praising its golf courses, skiing and lifestyle for families.
However, a visit was not on the immediate future for the US president.
"I've love him to come down but obviously he's got a schedule that's unbelievable, now, you never say never but you got to imagine he's got a lot on his plate at the moment."
The lunchtime conversation was two or three minutes long and the welcome at the reception shorter. However, Mr Obama and his wife Michelle stopped and chatted to the New Zealander and his wife Bronagh rather than a quick handshake which many other leaders received.
Mr Key said the exchanges were largely pleasantries but the pair did touch on the problem of nuclear weapons and proliferation. Tomorrow Mr Obama is chairing a Security Council meeting on disarmament and non-proliferation that Mr Key has been invited to attend.
The president was warm and engaging, and brought up their phone call earlier in the year.
"He sees New Zealand as a long-term friend of the United States and I think it's fair to say is very keen to make sure the relationship is on the strongest footing possible and I think he'll continue to see those gains which have been made in recent years ..."
Mrs Key told NZPA she had found the first lady lovely and elegant and noted she had an impressive aura about her.
New York Police Department enforced a 10 block "freeze zone" around the Metropolitan Museum of Art where the function was held tonight.
- NZPA