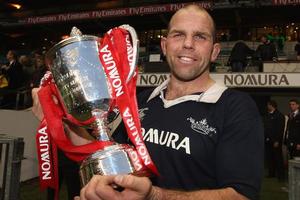 As the son of All Black hardman Frank Oliver, Anton Oliver would have grown up knowing a thing or two about a fight.
And as New Zealand captain, the hooker was involved in a battle or two of his own.
But now he's been drawn into a conflict of a very different kind, far away from the rugby paddock.
Amid the dreaming spires of Oxford, Oliver has been dragged into a row about the university's admission policy for top sportsmen and women.
The stoush was started by an opinion piece in student newspaper Cherwell by Matt Evans-Young.
The article questions whether the university - one of the hardest in the world to get into - bends the rules for leading athletes.
Evans-Young cites Oliver, former Wallaby Joe Roff and top rowers who competed in last year's annual boat race against fierce rivals Cambridge to support his case.
Oliver started a 12-month Masters in Biodiversity, Conservation and Management at Oxford last year.
He went on to represent the university in the annual Varsity rugby match against Cambridge, helping his side to their first victory in the fixture for four years.
Evans-Young questioned whether offering sportsmen a one-year Masters degree devalued the honour of representing the university.
"Let's not kid ourselves: most of these athletes probably weren't offered a place at Oxford because of their academic prowess," said Evans-Young.
"The recruitment process for these top sports is essentially just a free meal ticket for retired props and idle world champions, with a degree in management research at the end of it," he added.
Evans-Young's article was printed alongside a piece by Sean Lennon defending Oxford's sporting heroes and arguing Oliver's experience would be of benefit to his teammates.
The following week Cherwell printed an apology and clarification in connection with "a number of inaccuracies" in Evans-Young's piece.
University spokeswoman Maria Coyle wouldn't answer questions about whether they had complained about the article and Evans-Young did not return messages.
But Coyle denied Oliver would have been admitted to Oxford for his sporting prowess alone.
"You get to Oxford purely on academic achievement, purely on that."
Coyle said masters students from the UK had to have achieved a first class honours degree or a good upper second class result, and overseas students should have achieved equivalent grades.
She also said the university rugby club had "no involvement" in the student selection process.
"All graduate students who play for Oxford have applied, been interviewed and then been offered a place to read a degree at Oxford University."
Oliver told one interviewer last year he acquired a "mixed bag" of grades in the two degrees he completed at the University of Otago.
He told the Herald on Sunday he was accepted at Oxford after going through the "normal application processes: formal interview, dissertation proposal, personal statements".
"I am unaware of any special circumstances regarding my admission."
Oliver has completed his course, and awaits the result.