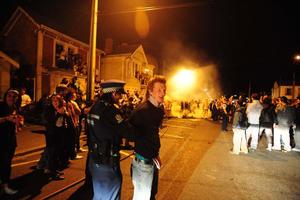 South Island mayors have been quick to say "no thanks" to the prospect of the Undie 500 student rally moving to their neck of the woods.
Canterbury University and student organisations yesterday decided to axe the annual pilgrimage to Dunedin after last weekend's rioting.
It was the fourth consecutive year the celebrations following the arrival of the rally, official or unofficial, had descended into chaos.
Police officers wearing protective gear were pelted with bottles and bricks as they tried to disperse chanting crowds.
Sixty-seven people were arrested and are still being processed through the courts.
Dunedin mayor Peter Chin was "delighted" at the decision to leave his city out of any future rally plans, the Otago Daily Times reported.
However, other South Island mayors are nervous and don't want a piece of the action.
"To hell with them," said Grey District Mayor Tony Kokshoorn.
"Thank you, but no thank you," was the message from Invercargill Mayor Tim Shadbolt.
"We love you, but not here, thanks."
Central Otago Mayor Malcolm Macpherson suggested any Undie 500 cars coming that way would be redirected to Dunedin, and Clutha Mayor Juno Hayes said his district "certainly wouldn't want them".
Waitaki Mayor Alex Familton said the small percentage of people who "consistently misbehaved" would "certainly not" be welcome in Oamaru.
Timaru and Nelson have also ruled out welcoming the students.
The Engineering Society of Canterbury (Ensoc), which organises the annual rally involving cars worth less than $500, was now looking at its options.
President Carl Shrimpton said Ensoc would begin developing ideas for a new charity drive event that did not involve travelling to Dunedin, because it did not want an underground event to replace the Undie 500.
The society was disappointed the Undie 500, Ensoc and the wider student body had been brought into disrepute by the actions of a small minority, he said.
"We have to take responsibility for the fact it is an excuse for what people down there want to do."
Otago University Students Association president Edwin Darlow said the decision would be welcomed by many, but the cancellation did not guarantee a lack of trouble.
He pointed out the impossibility of preventing people from coming to Dunedin.
"Riots are started not by events such as the Undie 500, but by idiots who attend those events."
- NZPA