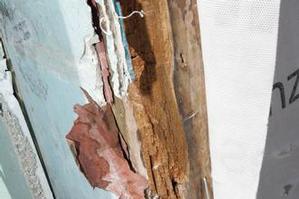 Auckland City is dealing with $240 million of leaky homes claims, the highest in New Zealand for any one council.
Yesterday it issued a list of active claims showing 42 multi-unit cases claiming $201,433,000 and 94 single houses claiming $39,345,155.
That compares with the city council's total debt of $322 million.
Claimants are bringing cases in the High Court and via the Government's weathertightness service and tribunal against the city for its role in the leaky building scandal.
Already, the council has paid out $50.9 million for 300 leaky building cases which cost $11.6 million in legal and expert fees.
The council said this was the amount of settled claims for both single and multi-unit dwellings.
This year's bill was slightly less frightening and the council claimed a share of victory.
"The total amount paid by the council was $11.4 million for 54 claims with a further $3.2 million for professional fees, making total payments $14.6 million," said a report to the council's finance and strategy committee.
"This figure is down sharply from last year when total council payments were $23 million ($19.6 million for 57 claims and another $3.4 million for professional fees).
"A more efficient approach with the use of specialised officers together with a lesser number of high value multi-units claims being ready to litigate are the likely causes for the improvement in 2009's financial results," the council said.
It referred to diminishing liability on the rented apartments/house front.
"In the last few months several decisions have been released by the High Court and the Court of Appeal reinforcing the lack of duty owed by council to a building owner where that building has a commercial use," the council said, referring to rental properties.
Last week, the Court of Appeal finished hearing claims on two major North Shore multi-unit blocks - Byron Ave and Sunset Terraces.
Auckland City noted that the arguments here partly centred on whether councils were responsible for houses which were rented.
The council said it wanted the Government to play more of a role in the national scandal but warned there was no quick fix.
* Sky high Auckland
Number of individual properties with active claims as at August 31:
Auckland 1920
North Shore 453
Manukau 123
Rodney 93
Waitakere 351
Papakura 0
Hamilton 32
Christchurch 322
Dunedin 2
National total: 3891
Source: Department of Building and Housing
Settled claims for Auckland City Council
No. of Claims 300
Council Contribution $50,941,395
Legal & Expert Fees $11,602,586
(both single dwellings and multi unit complexes)
Active claims:
MULTI UNITS:
No. of Claims 42
Amount claimed by homeowners $201,433,000
SINGLE UNITS:
No. of Claims 94
Amount claimed by homeowners $39,345,155
Source: Auckland City report