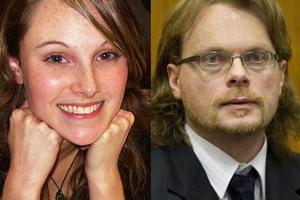 Sophie Elliott's mother today told her killer Clayton Weatherston she hoped Sophie's "screams of agony" would haunt him as they did her.
Weatherston, 33, was given a life sentence with a minimum no-parole period of 18 years for murdering his ex-girlfriend, who was stabbed 216 times in the locked bedroom of her Dunedin home on January 9 last year.
Speaking at Weatherston's sentencing in the High Court in Christchurch, Lesley Elliott described how she had been affected by her 22-year-old daughter's murder and witnessing part of the attack.
"As a mother being present and unable to help her until it was too late will live with me forever," she said.
Mrs Elliott told how she tried in vain to enter her daughter's locked bedroom after hearing her daughter's scream and Weatherston' repeatedly stabbed her.
"I will never forget those moments of sheer terror and her unbelievable screams of pain.
"By the time I was able to get into her room she had gone. My beautiful daughter had been butchered."
Addressing Weatherston directly, Mrs Elliott told him he had been privileged to have had time with her daughter and she would never forgive him for his crime.
"I hope that her screams of agony ring in your ears as they do mine."
Miss Elliott's father, Gilbert Elliott, described Weatherston as "the epitome of evil", and said he had destroyed his daughter's life in the "cruelest way imaginable".
"Her death would have been so awful and so excruciating as to be unimaginable," Mr Elliott said.
Christopher Elliott, Miss Elliott's brother, said Weatherston's lack of remorse had made his sister's death harder to deal with.
"He's, thus far, done nothing to lessen the impact of Sophie's death on those who loved her and only seems to care about the impact it has had on himself," he said.
"He cannot rationally believe that Sophie could have said or done anything that justified the incredibly excessive violence and savagery of his attack on her."
Weatherston, a former tutor at the University of Otago, sat silently throughout the two-hour sentencing, showing little emotion.
However, when his father, Roger Weatherston, spoke, he bent his head and wiped away tears.
"I never thought for one minute he could be capable of such a travesty that unfolded on January 9, 2008," Mr Weatherston said.
"I'm hoping that Clayton will find it within himself to publicly show remorse.
The defence team had put a defence of provocation before the court at the month-long trial which ended in July.
Defence lawyer Judith Ablett Kerr QC said Weatherston had achieved in life in spite of the struggle with his personality disorder, involving narcissism and obsessionality.
She said he stood by the evidence he gave at the trial about how the events took place.
Justice Judith Potter said Miss Elliott's murder had an impact on the whole of the New Zealand community.
"Sophie Elliott's death was a tragedy in every sense of the word," she said.
She said she, like the jury, could not accept the defence of partial provocation.
"I consider they are likely readily to have reached the conclusion that his killing of Sophie Elliott was not the result of his losing the power of self control, but was rather was a deliberate and controlled attack on a young woman who he had made known to others he hated."
She said she seriously doubted that his personality disorder contributed to diminished intellectual capacity at the time of the offending, but it may have contributed to a diminished understanding of the crime.
- NZPA