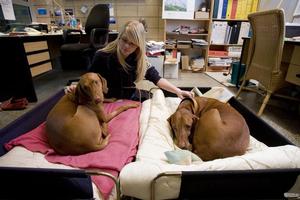 Health authorities have renewed warnings to take care on Auckland beaches after three more dogs became seriously ill with symptoms of tetrodotoxin poisoning.
One dog was sick after walking on Narrow Neck beach and another two became sick after walking on Takapuna beach, with what authorities believe to be the same toxin that killed five dogs and made at least 10 others ill.
The toxin, found in vomit from one of the dead dogs, is known as TTX and was traced to sea slugs found on Cheltenham and Narrow Neck beaches in Devonport.
Auckland Regional Public Health Service has advised emergency doctors that the TTX found in one small slug on Narrow Neck beach could if eaten be enough to kill a dog or a child.
After a week of sunny weather, public health spokeswoman Sally Young said the illnesses were a reminder to keep a close eye on dogs and children and not let them eat anything on the beach.
"If you go back to the beach please, please keep children and pets under close supervision," she said.
A spokeswoman for Auckland Regional Council said staff would go back to Takapuna beach to look for more evidence of sea slugs.
The three dogs fell ill on Tuesday.
Takapuna resident Ian Power noticed his two Hungarian vizsla dogs - Sam, 7 and Flo, 2 - were ill after walking on Takapuna beach on Tuesday morning.
The dogs had been "sniffing around" in the seaweed. By 3pm Sam was unsteady on his feet. By 8pm, both Sam and Flo were incontinent, shaking and frothing at the mouth, and Sam's back legs were collapsing.
Mr Power took the dogs to the North Shore After Hours Veterinary clinic, where they were kept on a drip overnight. The pair were still incontinent when he collected them yesterday morning and Sam was passing blood.
Mark Turnwald of Belmont Vet Clinic, Sam's usual vet, alerted the Ministry of Agriculture and Forestry on Tuesday when he saw another dog with symptoms he said matched tetrodotoxin poisoning - this one after walking on Narrow Neck beach.
Mr Turnwald put the dog on a drip and it was well again within 36 hours.
Meanwhile, Mr Power went back to the beach and warned "everyone he could see" about the new poisonings.
Fellow dog walker Sandra Allen ultimately alerted the North Shore City Council about Sam and Flo, after a stranger on the beach told her there had been more illnesses.
"We'd only just gone back to the beach," she said. "A woman came haring up to me and said 'Bad news, put your dog back on its leash'."
TTX is a potent poison - 100 times more poisonous than potassium cyanide - found in tropical puffer fish and blue-ringed octopus.
This is the first time it has been found in New Zealand and the first time it has been reported in sea slugs.
Symptoms normally develop within half an hour but may be delayed by up to four hours, says the public health service.
It said sea slugs were common and strandings could happen anywhere, possibly caused by prevailing weather patterns.
Health authorities warned against taking dogs and children to Hauraki Gulf beaches in July but now advise people can return if they watch dogs and children, do not touch sea life, and avoid sea slugs.
ON THE WEB
For up to date health advice see: http://tinyurl.com/l6d4zp