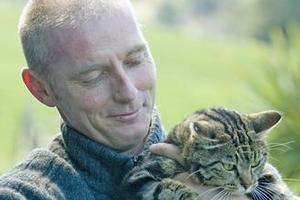 When Albie the cat didn't come home for his tea, his owners Andrew and Lyn Beale assumed the two-year-old tabby was busy exploring.
They had no idea Albie was recovering from a brush with death and a 20-odd kilometre ride wedged into the front of Gail Tomlinson's car.
Ms Tomlinson was driving past the Beale's Ormiston Rd, Manukau, property on August 20 when she felt she might have hit a cat.
But seeing no evidence, she continued on to work at Auckland Airport, a 20-minute trip driving at speeds of up to 90km/h.
When she arrived, she heard a "meowing" from the front of her Holden Commodore.
A quick check revealed Albie tucked up in "a perfect little cubby hole" in the chassis of the vehicle, behind the number plate.
Afraid to move him herself, a distraught Ms Tomlinson got a workmate to drive her car - "carefully" - about 2km to the Mangere SPCA, where a vet extricated Albie.
X-rays revealed he had a broken back leg.
"I was devastated. I was just beside myself," said Ms Tomlinson.
Fortunately for the Beales - who distributed flyers in the hope of finding Albie - the SPCA kept the cat in the hope his owner would turn up.
Word eventually reached the Beales that a cat matching Albie's description was being held at the SPCA, on painkillers for his injuries.
Albie subsequently had surgery, running up a final bill of about $2000.
Now he is up and about, recovering at home.
He is able to put weight on his back leg, which has two pins in it, and should suffer no long-term consequences.
Vet Craig Hunger said Albie should be fine, as long as the Beales keep up his physiotherapy.
"To be stuck in a grill and not fall off is a very lucky thing ... there's a good chance they could have had a dead cat."
Mr Beale said that when Albie turned up on their doorstep about five months ago, they named him LB, short for Lost Boy, which morphed over time into Albie.
"I think now it might be Lucky Bugger."