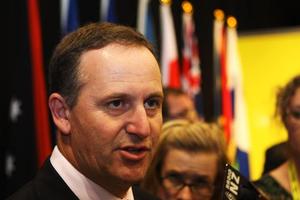 Cabinet has started discussing the referendum on the electoral system that National promised it would hold, Prime Minister John Key said today.
Under the campaign pledge a referendum would be held before or at the same time as the 2011 general election, asking voters whether they want to change from MMP to another system.
If a majority want a change, a second referendum would be held offering options to replace MMP.
Ministers are discussing the wording of the referendum and whether both questions could be dealt with at the same time, in a single referendum.
Justice Minister Simon Power had taken an early proposal to cabinet which was discussed last week, Mr Key said on TV One's Breakfast programme.
"We've looked at initial thoughts on how it might work," he said later on NewstalkZB.
"Officials are continuing to work on it...the options for cabinet essentially will be whether there is one or two questions when the first referendum is held."
Mr Key said it was a complex issue and voters would need to understand the different systems on offer if a majority decided they wanted a change.
It was possible the first referendum could be held before the next election, he said, but he appeared to indicate he favoured holding it at the same time.
"It would be cheaper, and because of its constitutional nature you do want widespread support in terms of voting," he said.
The referendum will be binding and simple majorities of 51 per cent would decide the issues.
- NZPA