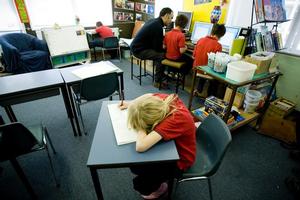 A turning point for the better in a child's life? Or "unsafe, abusive and dangerous"? The verdicts from people who have experienced Waimokoia Residential School span the whole spectrum.
Ruby Shortland, whose son was sent there as a 7-year-old, tried to lay an assault charge against a staff member who pushed her son to the ground and put an elbow to his throat.
"I think they should close it down," she says.
Helen McMurray, whose 7-year-old son was offered oral sex by an 11-year-old girl in the sandpit, says her son has never recovered from what the school did to him.
Terry Gosset, who worked there in 2003, says the children were "ruled by fear" by a residential manager who openly said his job was to "keep the kids under control". A senior teacher kept the children medicated.
But to all three former students traced by the Weekend Herald, Waimokoia was the first place that offered real help after years of trouble. Their names have been changed for this article.
Richard, now 36, had been in eight schools before he reached Waimokoia at 9.
"My dad left before I was born," he says.
"My mum was an orphan and she was raised pretty hard. She had no idea how to love. My stepdad cared for me financially, but again there was no love."
In Waimokoia's 18-bed "Blue Cottage", he found for the first time what felt like "a normal family".
"It would feel like you were part of a family with the other children that were around you and the adults that were looking after you," he says. "It was stable."
Staff used games to teach the children how to make eye contact.
"It taught me how to normally interact with others," he says.
Richard's time was not all happy. A female staff member who looked him up and down in the shower "had quite an impact on me for quite a long time".
In his teens he had a spell in jail and needed alcohol counselling. But in those times, the memory of Waimokoia kept him going.
"Now I have children of my own. I use the techniques that I remember being taught at Waimokoia with my own children, and my children are good."
Tony, 31, who was at Waimokoia in 1990-91, says Waimokoia helped him to deal with the anger in his life.
"I was sexually abused as a child. No one realised that at the time. They did at Waimokoia," he says.
"I was lucky - my social worker was in my opinion one of the better ones, and also one of the teachers there, who I think later became the assistant principal, was very good."
And Alison, 26, the sole girl at the school in 1994-95, says she never suffered any physical or sexual abuse even though being the only girl might have attracted it.
Like the two boys, she had "a troubled upbringing".
"My mother couldn't cope with me any more."
At Waimokoia she had a couple of spells in the "time out" room, a windowless concrete-block cell, but says, "It didn't hurt me none. It was only for five or 10 minutes.
"I really enjoyed it [at the school]. They sure taught me how to put my attitudes into perspective. I came out of there a much better person than when I went in."
TROUBLED SCHOOL
* "Waimokoia", in Half Moon Bay, means "troubled waters" in Maori.
* One of three residential schools for pre-teen children with behaviour problems.
* Four ex-staff prosecuted this year for alleged offences against children at the school. Two acquitted; two hung juries.
* Education Review Office recommends placing all three schools under one board now and closing them eventually.
* Education Minister Anne Tolley has given Waimokoia until next week to say whether it should be closed.
In Monday's Herald: Simon Collins looks at one-on-one therapeutic foster care