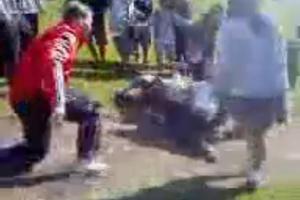 Footage of a schoolgirl brawl at Lynfield College, which shows a male teacher being knocked to the ground while trying to stop it, has emerged amid controversy over another attack at the school.
The video on YouTube, one of several from the school, shows a group of students yelling at one another while the teacher tries to intervene.
The group then start punching one another while a large group of students cheer them on.
The teacher is briefly knocked onto the concrete footpath and some of the students involved in the scuffle fall to the ground. The video then ends.
YouTube has today removed the clip, saying it had been taken down due to "terms of use violation".
Another video entitled "Lynfield College fight" shows two groups of male students, not in uniform, walking towards each other before a teenager from each group starts punching the other while the rest watch.
Lynfield principal Steve Bovaird said he was aware of the footage of the first brawl, which happened about a month ago. The students involved had appeared before the board of trustees but he would not reveal their fate.
"We've been through a really traumatic incident at the school and we're trying to put that right," Mr Bovaird said. "You'll find a fight from every school on the internet."
Mt Roskill Grammar School yesterday suspended five of its students after an attack on a 14-year-old boy at Lynfield on Monday.
The students who, with three others are being dealt with by police, entered the school while the victim was in class and allegedly started beating him in front of his classmates and teacher.
The five were to appear before the school's board of trustees next week, said principal Greg Watson.
He said the board would decide if the boys would be excluded or allowed back to school under certain conditions. Police have said the group will not face criminal charges.
Lynfield on Wednesday suspended one of its own students, who led the group to their target.
The incident was one of three attacks at secondary schools this week.
Police are investigating an incident in Porirua in which about 20 boys, believed to be from Mana College, went to Bishop Viard College and threatened students on the rugby field. They were believed to be armed with a baseball bat.
And a Thai home stay student was beaten up on a bus in Christchurch by fellow Avonside Girls High School students.