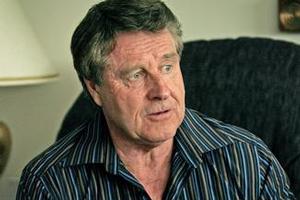 A Commonwealth Games medallist claims to have been maimed after being infected with what he believes was a "superbug" during a routine shoulder operation at a top private hospital.
It was the same hospital, MercyAscot in Remuera, where his long-time friend Auckland Mayor John Banks claimed to have been infected by a superbug after his reconstructive shoulder surgery. Banks had surgery after falling down stairs at the Auckland Town Hall on Christmas Eve of 2007.
John Bolton had surgery on his right shoulder at MercyAscot last December - which he alleged went "horribly wrong".
Bolton represented New Zealand at two Olympics and three Commonwealth Games in weightlifting, where he won two silver medals.
A surgeon managed to repair the damaged joint but two months later Bolton, 64, returned feeling "crook all the time". He had lost a significant amount of weight and was in "enormous pain".
MercyAscot chief Dr Andrew Wong said Bolton had not notified the hospital of his superbug claims but was willing to discuss the matter with him.
"We can categorically state that there's no superbug infection at the hospital at the time he was there and now," he said. "There has been no increase in the incidents of infection in shoulder surgery at Ascot."
Greg Simmons, chief adviser to the Ministry of Health, said he would look into Bolton's case on Monday, as well as his call for more private hospital accountability and transparency .
"Responsibility for infection control sits with the hospital," Simmons said.
Bolton's surgeon rushed him to Middlemore Hospital after scans and blood tests could not diagnose the bug. He underwent two emergency surgeries in late February and was fitted with a tube at the top of his heart in a bid to stop the staphylococcus bacteria attacking his heart and killing him.
"It was a tiny op, which turned into a nightmare," Bolton said. "The bug had eaten my rota cuff and got into the bone."
For the next six weeks he was fed 24-hour doses of intravenous antibiotics with a liquid bag of the super-strong drug, Vancomycin, strapped to his waist. He underwent twice-weekly blood tests.
Six months on, he hasn't recovered and has lost 70 per cent of the use in his right arm. He has put on 9kg of the 18kg he lost from his experience.
He believed there was "no question" that the infection got into his shoulder through surgery: "This private hospital has to be made accountable."
"It cost at least $50,000 to fix me from an infection which I believe was from a private hospital where most people expect to be safe. At times I get really upset. I can't even cut our hedge or paint our house." The Middlemore Hospital serious infections unit believed he had a "similar bug to John Banks", he added.
Last night, John Banks said it was important to get the same disciplines within the private health sector as in public institutions. "What has happened to John Bolton is a tragedy," he said. "For myself, I'm just grateful that I'm not listed on the back page of the Herald."
"If we can put some perimeters on accountability around the private health sector then we would have made some progress and maybe the pain and suffering that John Bolton and myself have been through has been worthwhile."
Labour health spokeswoman Ruth Dyson called for greater transparency, yesterday.
"I certainly think that in the instances you raise that it's not fair for the taxpayer to be funding the private hospitals but then having to pick up the can for anything that goes wrong.
"Moves for greater accountability and transparency are probably justified."
Sally Roberts, infection control clinical adviser at Auckland District Health Board, said Auckland's public hospitals received patients colonised with multiple antibiotic-resistant organisms from a variety of health sector institutions.
"It is a reality for the New Zealand healthcare sector, which ADHB manages by active surveillance."