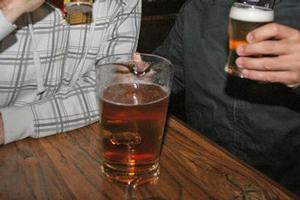 Bars around the country could be breaking the law with promotions that encourage binge-drinking, says an alcohol advisory group.
Hamilton's Bahama Hut has what it calls "Funtastic Fridays" and "Super Saturdays", where bar-goers can drink anything they like from 9pm until 3am, for $39 on the Friday and $45 on the Saturday.
The Bahama Hut's website advertises the promotions with bold letters on its home page saying: "Shakers, cocktails, beers, wines, RTDs, shots, premiums, Demon & Vodkas/Jagers, Daiquiris, anything we have, all yours, all night long!".
Whangarei bar Danger! Danger has a promotion - "cup nights" - where patrons pay $10 for a cup that can be refilled 20 times from 9 to 11pm.
The Alcohol Advisory Council of New Zealand (ALAC) project manager for drinking environments, Andrew Galloway, alleged that offering a number of beverages to drink in a short period of time was promoting excessive consumption of alcohol, which is against the law.
"Although ALAC recognises that licensed premises need to promote alcohol, these bars certainly aren't promoting a culture of responsible drinking," he said.
But Danger! Danger owner Ross Vickers said Galloway should "get up with the times".
"We've had the promotion looked at by the agencies, and they're happy with that. It's not a free-for-all."
Supermarkets were the ones promoting irresponsible drinking, he said, with their cheap booze "destroying the on-licence industry single-handedly".
The Bahama Hut did not return calls.
Under the Sale of Liquor Act 1989, every licensee or manager of a licensed premises is liable to a fine of $5000 if they have a promotion that is "intended or likely to encourage persons on the licensed premises to consume alcohol to an excessive extent."
However, it does not state what an "excessive extent" is, and there is debate about what constitutes intoxication.
Alcohol and Drug Helpline general manager Paul Rout said men should have no more than six standard drinks per session and women no more than four. Any more than this was promoting intoxication, he said.
However, the Hospitality Association of New Zealand northern regional manager Sara Tucker said Rout's estimation of what was deemed intoxication was set too low.
There were strict rules in place for bars, she said, and they were heavily policed by the authorities. They would be prosecuted if intoxicated people were found on their premises.
The National Protocol on Alcohol Promotions - guidelines developed by HANZ, ALAC, the police and Local Government NZ - says an unacceptable promotion is anything "that encourages the excessive consumption of alcohol or is of a limited duration that encourages faster-than-normal drinking."
Law Commission president Sir Geoffrey Palmer said any form of promotion that encouraged people to drink more was "a bit suspect".