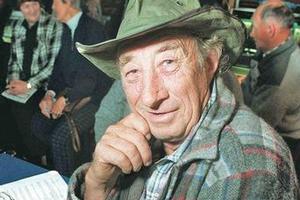 The late bushman and popular yarn spinner Barry Crump is to have one of his books turned into a film.
A cinematic adaptation of Wild Pork and Watercress, about the relationship between an old man and a boy who go bush, looks set to begin filming next year with Oscar-nominated Taika Waititi as scriptwriter and director.
Waititi is wrapping work on a feature-length version of his short film Two Cars, One Night and has cleared his schedule afterwards to work on the Crump adaptation, provisionally titled Land of Tears.
"It's about these two outcasts, this old Pakeha guy and a young Maori boy who's been in and out of foster care," Waititi said. "They basically disappear into the bush to escape social welfare and the police who want to take the boy away."
Land of Tears is being produced by Charlie McClennan, Ainsley Gardiner and Richard Sheffield.
McClennan said the project was likely to have a "modest budget" but production was progressing smoothly.
Waititi received $20,000 in script development funding from the New Zealand Film Commission for the project last November.
The film production follows a bitter and costly three-year legal battle over Barry Crump's will fought between Crump's fifth wife Maggie and his son Martin.