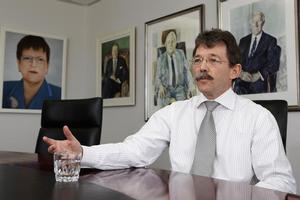 For a man who can afford anything he wants, Peter Goodfellow has simple tastes: his mother's knitted jumpers are among his most treasured possessions.
It was bland tastes like these that seemingly made him the perfect grey man to run the National Party's backroom when he assumed its presidency three weeks ago.
It was a rare foray into public life for the Goodfellows, one of New Zealand's wealthiest dynasties.
But just days after calling himself a "safe pair of hands", his role was immediately called into question with reports he was already being pressured to stand down.
The reason, Mr Goodfellow said when confronted by Parliament's Press Gallery, was "to do with the end of my marriage" to American Libby Black.
For a family characterised by their discretion, the Goodfellows had suddenly found themselves front and centre.
It is a rare glimpse: his now 92-year-old father, Douglas Goodfellow, has never given a public interview.
The family have managed to keep their low profile despite wealth and philanthropy on a massive scale - a Listener article from 1996 detailed how Douglas Goodfellow gave away $285 million to various unknown charities, the largest gift in New Zealand history at the time.
Mr Goodfellow's grandfather Sir William Goodfellow was known as "the father of New Zealand dairying" for his role in introducing mechanisation and co-operatives to the industry at the turn of last century.
The family are 16th on the NBR rich list with an estimated wealth of $550 million from interests ranging across fishing, finance and agricultural chemicals. The mild-mannered Mr Goodfellow - often compared to Ned Flanders from The Simpsons because of his moustache - told the Weekend Herald that recent weeks had been "difficult".
Ms Black's family background is equally dynastic. Her grandfather Hugo Black, once a senator from Alabama, was a justice of the United States Supreme Court for 44 years.
He is regarded as one of the most influential US jurists of the 20th century and was once pictured on a postage stamp issued by the United States Postal Service.
Her father, Hugo Black II, and brother Hugo Black III both became well-known lawyers in the US.
Ms Black declined to speak to the Weekend Herald.
Mr Goodfellow is now in a relationship with Desley Simpson, the ex-wife of his fellow National Party board member Scott Simpson. It began well after the Simpsons' marriage ended.
Mr Simpson is widely regarded as a rival for the presidency, but Mr Goodfellow claimed there was no awkwardness between them.
"We leave our personalities behind at the board table. His marriage [to Desley] was over years and years ago.
"People in the National Party have known for a long time that I am going out with Desley. If she is at a function with me, she is there with me - certainly not with Scott."
Mr Goodfellow has recently been assisting the Serious Fraud Office with its investigation of Auckland restaurateur Loizos Michaels after loaning his friend Stephen Lyttelton $100,000 that was allegedly lost in a business deal. He met Mr Michaels, but never invested directly with him.
Mr Lyttelton was a former manager of the Christchurch casino who left in a storm of controversy in 2007, claiming loan sharking, prize draw fixing, gaming machine skimming, money laundering and illegal gambling all took place there.
It is understood Mr Lyttelton was the complainant in the case. He declined to comment yesterday, citing legal reasons.
Mr Goodfellow said Mr Lyttelton was a life-long friend he was trying to help and he expected the money would be paid back. "When your family and friends fall on hard times and are in financial strife you help them out."
Mr Goodfellow also gave disgraced lawyer David Watt some painting work when he came out of prison after being jailed in 2006 for pillaging over $100,000 from a client's estate.
Mr Goodfellow was Mr Watt's best man over 30 years ago, but after this initial helping hand, he now has little to do with him.
Asked if the factional politics of the National Party in Auckland are "vicious" given the early pressure on his presidency, Mr Goodfellow prefers the word "robust".
He said the blue-blood business and farming family had not always been National through-and-through: when the party was first formed in the mid 1930s, his disillusioned grandfather William toyed with forming his own competing party.
Asked if the family subsequently became big donors to the party, Mr Goodfellow said that was a "private matter", although they were supporters more than donors.
He became the family's first activist with the Young Nationals in the 1970s.
He recalled Tamaki MP and Prime Minister Rob Muldoon collecting him early one morning for an Anzac Day dawn service.
He felt he had been building to the presidency since then.