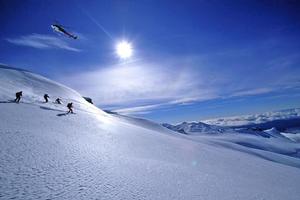 Adventure tourism operators are being urged to look again at their safety measures after several tragedies, but say they can never guarantee the safety of thrill-seekers.
Recent deaths and court cases have highlighted how badly things can go wrong, and concerns have been raised about the effect the publicity will have on potential overseas tourists.
This week, Queenstown's Mad Dog River Boarding was fined $66,000 and ordered to pay $80,000 in reparation to the family of British tourist Emily Jordan, 21, who died when she was trapped against a rock.
But tourism officials say it is the element of danger in high-adrenalin activities that is attractive to many tourists.
"No, we cannot guarantee safety, but we can minimise risk to the point where [death or injury] is extremely unlikely," said Tourism Industry Association advocacy manager Geoff Ensor.
"I don't think anybody, whether they are driving on the road, or doing just about anything we do, could guarantee anything. But I think it's absolutely fair that the visitor has an expectation that the operation, whatever the activity they do, is carried out to a really high level of quality and safety.
"What we are asking is for operators to do all that is practical to minimise the risk, but retain the excitement."
New Zealand, as a world leader in adventure tourism, had a strong safety record, Mr Ensor said.
"But I do think this is a timely reminder for all operators to once again reassess everything they are doing in their business ... to go back to the basics, to look at their standards, to look at whether they have some external viewer of their business."
Mad Dog River Boarding pleaded guilty to two charges of failing to ensure the safety of Ms Jordan, who became trapped underwater and drowned in the Kawarau River in April last year.
Ms Jordan's father, Chris Jordan, has been outspoken in his criticisms of the industry, saying his daughter died unnecessarily.
He wants companies to be forced to operate to standards expected in "a respected Western country", and said he would take his concerns to Prime Minister John Key, who is also Minister of Tourism.
A spokeswoman for Mr Key said his office had not yet received any request from Mr Jordan for a meeting. If it happened, the Prime Minister's office would respond to Mr Jordan's concerns directly, "not through the media".
"The Prime Minister is concerned about any death in New Zealand's tourism industry but there are safeguards in place," the spokeswoman said.
"This is not to say that there is not room for an improvement, and we understand the Jordan case did result in Maritime NZ establishing a code of practice for commercial river boarding and sledging.
"Hundreds of thousands of people come to New Zealand and have a safe and exciting adventure tourism experience, and we will continue to rigorously monitor companies."
The Department of Labour's head of workplace services, Maarten Quivooy, said tourism operators, by law, had to take all practicable steps to prevent employees and others in the workplace from being harmed.
"They know the business, so they are the ones who are best able to identify the hazards and to come up with ways of managing them. The department supports businesses and organisations to do that. But we can't do it for them."
ADVENTURE TRAGEDIES
April 29, 2008 - English tourist Emily Jordan, 21, drowns after becoming trapped against a rock while river-boarding with Mad Dog River Boarding on the Kawarau River near Queenstown.
September 25, 2008 - Chinese tourist Yan Wang, 42, is killed when a jetboat operated by Kawarau Jet flips over in the Shotover River near Queenstown. The jetboat driver is to stand trial over the death.
March 7, 2009 - Massey University student Catherine Peters, 18, falls to her death while doing a bridge swing near Woodville. Adventure company director Alistair McWhannell is to stand trial for manslaughter.
July 24, 2009 - Australian Llynden Riethmuller is killed in an avalanche while on a heli-skiing trip in ranges near Methven, mid-Canterbury.
August 14, 2009 - Heli-skiing guide Jonathan Harvey Morgan, 38, is killed in an avalanche, in a similar area as Mr Riethmuller, while leading a group of tourists.