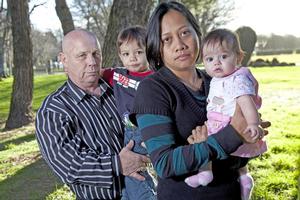 Every time Evangeline Acero Stanners looks at her two young children, she is reminded of how little time she has left with them.
The Filipina mother of two New Zealand-born children, aged 2 and six months, has been told by Immigration New Zealand that she will have to leave when her work permit expires in January - despite being married to a New Zealander.
Immigration has told Mrs Stanners, 35, that she will not be granted residency, which she applied for in June last year, because she was diagnosed with having advanced kidney disease during her second pregnancy last year.
"If I have to leave my children, I know it might be the last time that I will see them, ever. As a mother, my fight to stay alive is so that I can be here for them," she said.
"Immigration is tearing our family apart. If I have to go back to the Philippines, I am surely going to die - I'd rather die with my family beside me."
In a letter to Immigration NZ, nephrologist Kelvin Lynn said Mrs Stanners had only 15 per cent of her overall kidney function, and would need either a transplant or dialysis.
Mrs Stanners says the doctor said she can no longer carry her baby, because it would cause too much of a strain on her kidney.
"Each time I look at them, I cry - saying to them, don't worry, mummy will fight to stay and she'll be here for you," she said.
A New Zealand citizen or resident can sponsor a spouse or partner for residency, but it would be subject to meeting health requirements.
Immigration told Mrs Stanners: "The medical assessor has advised that you do not meet the acceptable standard of health ... on the basis that you are likely to impose significant costs or demands on New Zealand's health services."
Husband Richard Stanners said dialysis treatment would cost about $65,000 a year, and sending Mrs Stanners to the Philippines would "be as good as signing her death warrant".
Mr Stanners, 55, a Christchurch-based mortgage consultant, said his wife developed a minor kidney problem when she was pregnant with their first child, Josh, but her condition deteriorated significantly when she became pregnant the second time.
He said they could not afford to pay for the treatment his wife needed if she was sent back, and was pleading for the Government to let her stay.
MP Jim Anderton wrote to Associate Immigration Minister Kate Wilkinson requesting a medical waiver.
Ms Wilkinson said she would look into the matter but "could not guarantee a favourable outcome".
The couple met on the internet in April 2006 and married in the Philippines in November that year.
Mrs Stanners was granted a 12-month visitor's visa when they moved to NZ the following April, and was later granted two work permits. The second expires on January 10.