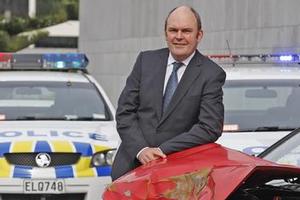 Lower blood-alcohol limits and a higher driving age are among more than 60 ideas the Government is asking the public to rank in a desperate bid to reduce road deaths and injuries.
A zero alcohol tolerance is suggested for drivers aged under 20 and for repeat drink-driving offenders, as is doubling the learner licence period to 12 months, and encouraging youngsters to receive 120 hours of supervised driving practice before being allowed to go solo on restricted licences.
A prospect of confiscating vehicles used by youngsters breaching graduated licensing rules more than once in three months, such as by carrying passengers or driving at night, has also been raised.
Other possible safety improvements include amending intersection give-way rules, such as the quirky requirement for traffic turning left to yield to right-turning vehicles, and making an offence of driving while fatigued.
The Government has reserved judgment on all 61 suggestions from a discussion paper issued yesterday by Minister of Transport Steven Joyce, preferring to invite New Zealanders to list their top 10 or 20 preferred changes for a strategy aimed at reducing death and mayhem on the country's highways and byways by 2020.
Proposals such as raising the minimum driving age to 16 or 17, and lowering the adult alcohol limit to 50 milligrams for every 100 millilitres of blood - down from 80mg now - follow an admission of defeat for efforts to hit safety targets set for next year.
The Ministry of Transport admits in its Safer Journeys discussion paper to falling "well behind" targets of no more than 300 road deaths and 2200 serious injuries by then.
Although last year's toll of 366 deaths was the lowest since 1959, the annual 12-month rolling total was back to 394 by yesterday, and 261 people have been killed on the country's roads since January 1. That compares with 233 deaths for the same period last year.
Particularly worrying is a 6 per cent jump since 2004 in the number of people left seriously injured, to 2872 last year.
Alcohol and drugs are blamed for 31 per cent of fatal crashes, and young drivers aged 15 to 24 for 37 per cent, even though they hold only 16 per cent of issued licences.
Speed contributed to 34 per cent of fatal crashes, raising suggestions in the discussion paper of more surveillance cameras and higher demerit points, counterbalanced by lower fines.
The paper has not proposed updated numeric targets, preferring to talk of a "vision" of a safe roading system increasingly free of deaths and serious injuries, which it sees as everybody's responsibility to achieve.
It says an effective vision needs to be "inspirational and challenging, yet still credible" and should "resonate with all New Zealanders".
Automobile Association motoring affairs manager Mike Noon is disappointed no numeric targets have been set, saying there would be no harm in working towards a goal of halving deaths and injuries by 2020.
His organisation is urging the Government to pump the $100 million or so it collects annually from traffic fines into "a decade of road safety action".
"Top of the list for the AA would be installing flashing lights and high visibility electronic speed signs around all our schools to keep kids safe," Mr Noon said. Mr Joyce said he would not rule out setting targets, but only after hearing the views of road users in submissions due by October 2.
"[Government] has a role in setting the road rules, building the roading infrastructure and making it as safe as possible, but it can't ultimately control the way people behave when they get behind [the wheel of] a car," he said.
* For online submission forms, visit www.saferjourneys.govt.nz
* Key suggestions on the road-map for safer journeys:
ALCOHOL:
Reduce the legal adult limit to 50mg per 100mls of blood (from 80mg now).
Impose zero limit for drivers under 20, adults without a full licence, commercial drivers and repeat drink-drive offenders.
OTHER DRUGS:
Introduce random road-side drug tests as technology allows.
YOUNG DRIVERS:
Raise the driving age to 16 or 17.
Double the learner licence period to 12 months.
Strengthen the restricted licence test to encourage 120 hours of supervised driving practice during learner licence period.
Impound vehicles for breaches of graduated licensing rules.
Introduce compulsory third-party insurance.
ROADS:
Change give-way rules for turning traffic and pedestrians.
SPEED:
Increase the number of surveillance cameras.
Change penalty system to higher demerits and lower fines.
Create lower speed zones on high-risk rural roads.
MOTORCYCLES:
Introduce a programme of remedial work for motorcycling "black spots".
FATIGUE:
Promote more roadside stopping places.
Make driving while fatigued an offence.
VEHICLE RESTRAINTS:
Allow children over five to use adult seat belts (rather than appropriate restraints including booster seats) only after they reach 148cm (4ft 10in) in height.