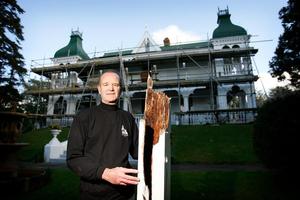 The historic mansion of Alberton in Mt Albert has been covered in scaffolding for a month as part of a $355,000 repair project.
Not since the grand house was built 146 years ago has it undergone such major works. Parts of the fancy exterior woodwork on the farmhouse built in 1863 are being replaced. Alberton's distinctive exterior balustrades, fretwork, some piles and veranda are being fixed.
The main contractor, Astley Construction, discovered a large number of rotting kauri supports and veranda boards. As a result, the planned restoration timetable of May/June was extended until next month and the cost of the repairs rose.
Gordon Hewston, northern regional manager of the Historic Places Trust, said much of the rot was not uncovered until the big repair job started. One structural beam was discovered to be almost completely hollowed out andit now stands in Alberton's entrance foyer as testament to the hiddenextent of the building's decay.
"Yet the deterioration was initially invisible," Mr Hewston said.
Once the exterior wood is repaired, the entire house will be painted.
Mr Hewston said roof repairs would begin next year. The trust would need about $170,000 to pay for repairs to the corrugated iron roof, paint and tidy up the property.
About a third of the money is coming from the Government and the rest comes from bequests and income generated from the property, which is the venue for up to three weddings, functions and celebrations every weekend from October to April.
Rendell McIntosh, Alberton's manager, said rot was discovered in many areas. Scaffolding would come down next month, but functions and events were still being held.
Yesterday, the NBR New Zealand Opera had hired Alberton for a photo-shoot. Makeup artists, performers and technicians were using the ground floor while building contractors worked on the northern facade.
"A lot of the repair work relates to kauri wood installed in 1870," said Mr McIntosh. "It is wonderful that it has lasted so long. We have no doubt the current makeover will bring Alberton back to its best."
Mr McIntosh, manager for the past four years, said Alberton was one of the city's hidden treasures and he's keen to encourage more people to visit.
"Over 400,000 people have been attracted to the venue since it opened in December 1973. Yet most Aucklanders don't know we are here."
The trust property is at 100 Mt Albert Rd.
OLD-TIMER
* Alberton was built by Allan Taylor in 1863.
* One of three Historic Places Trust properties in Auckland.
* The others are Highwic House and Ewelme Cottage.
* Alberton is one of the city's most precious mansions.
* Open Wednesdays to Sundays from 10am to 4pm.