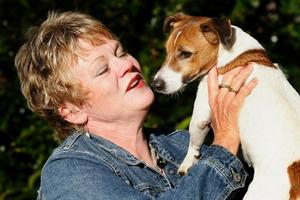 When Ellie Jackson was mauled by a neighbour's labrador-cross dog at her rural Glenbrook home this year, it initially looked as though she might not survive her severe wounds. But thanks to two separate life-saving operations, the skill of her surgeon and that of the emergency medical team and with the aid of two weeks' post-operative care at a dedicated round-the-clock medical facility, she made a full recovery.
Her family, who had been away on an Easter holiday at the time of the attack, naturally wanted only the best for Ellie and they willingly paid close to $8000 to ensure her initial treatment and ongoing care were top-notch.
But there's a twist: Ellie is a dog — a 3-year-old Jack Russell terrier. She is one of a growing number of domestic animals who owe their quality of life, even life itself, to modern advances in veterinary surgical techniques, highly trained specialists and state-of-the-art private clinics — not to mention besotted owners prepared to pay whatever it takes.
Growing numbers of pets are having advanced medical procedures, including open-heart surgery, hip replacements, cancer therapy and cosmetic surgery more commonly associated with human patients. And owners are increasingly willing to pay for the expensive treatments, which can cost up to several thousand dollars.
Ellie's owner, Lisa Jackson, had been saving up for a quad bike but willingly diverted the savings to pay for Ellie's enormous medical bills. Had she not, the terrier's injuries were so extreme she would certainly have had to be put down.
It's thanks to crack teams of well- qualified and globally experienced veterinary professionals that many severe injuries and serious conditions can now be remedied in the operating theatre. Not so many years ago, the only humane option for many critically ill or injured animals would have been to put them to sleep. Our Massey University-educated veterinarians are increasingly heading overseas for specialised training in a range of fields — such as cardiology, orthopaedics, ophthalmology and general surgery.
Then, armed with skill and expertise acquired in Britain, the United States and Australia, they are returning to New Zealand to usher in a new era of pet care. Mt Albert's Veterinary Specialist Group (VSG), a joint venture with Unitec, is essentially a private hospital, complete with 24-hour care, for domestic pets.
From its light and airy purpose-built premises, gleaming floors, modern reception area and high-tech equipment, there's no indication that most of the patients are of the woofing and miaowing variety. General practice veterinarians refer their patients on to this facility for procedures and treatments outside their own area of expertise. In addition to the usual x-rays, VSG's radiology department uses ultrasound, MRI and CT scans to aid diagnosis.
Orthopaedic, neurologic and soft tissue surgery is performed in well-equipped theatres. Post-operative care is handled by surgical nurses responsible for pain relief, wound management and fluid therapy. Even chemotherapy for cancer patients can be administered here.
Michael King is a VSG vet who recently returned to New Zealand after four years of surgical training at Virginia Tech in the US. King and his colleagues perform abdominal and thoracic operations and even do hip replacements on pets. But fracture repairs (often involving plates and screws) to legs and pelvises are among the most common surgeries.
Animals — especially cats — who've had close encounters with motor vehicles are frequently clients on the operating table. King says there has been an increase in the willingness of pet owners to get the best medical attention for their ailing furry friends. "I think the bond as a member of the family has become even stronger over the years. People are more willing to commit financially to their animals because they're so important to them and they want to be able to provide the same care that they can receive," he says.
"Yes, there is a high expense involved because, of course, there's no public health system for animals." He notes that spinal surgery is often performed on short-legged dogs, such as daschunds and some fox terriers, prone to ruptured discs, and that breeds such as labradors, golden retrievers and german shepherds are inclined to need cruciate ligament repair on their knees.
"A lot of what we do is breed-specific problems, unfortunately. As we've created ... these various breeds of dogs with certain traits, we've also bred into them certain problems that can sometimes arise."
The sheer variety of breeds and variations in the size of animals presents challenges to pet surgeons. Continually adjusting to take into account markedly different patients is an occupational hazard. "One minute I might be operating on a very small cat with a fractured leg and the next minute we're operating on a great dane," says King.
Debra Dudley, of Pukekawa in South Auckland, knows the VSG well. Her 15-year-old grey cat Jessie, who was diagnosed with a brain tumour in 2007, was admitted to the facility for 10 days of testing and exploratory procedures — including a biopsy taken under general anaesthetic — to determine whether he was likely to respond to treatment such as chemotherapy. It cost around $4000 to discover that unfortunately there was little that could be done for Jessie. In fact, two days after that he'd deteriorated so much that Dudley asked her local vet to put him down.
But the 51-year-old doesn't regret the financial outlay. "Private hospitals aren't cheap," she explains. The ongoing patient care also impressed Dudley, especially the caring response to the worried 2am phone-call she made to Jessie's specialist the day after the cat came home from hospital. "He was fine [about taking] my call," she says.
Dudley acknowledges that veterinary advances have probably made life-and-death decisions more complicated for some pet owners. "It makes it more difficult to just dispose of an animal, because there are more options available," she says. "You go along there knowing it's going to cost you a fair few thousand dollars and then you make up your mind whether you can afford it or whether your cat's worth it, or however you think about it."
These days, domestic pets even have their own eye specialists. Peter Collinson, of the Auckland Animal Eye Centre, is a veterinary ophthalmologist who worked for the University of Melbourne and also trained in the United States. "The general practice vets refer their more difficult cases to us because we've got that specialist training and equipment that makes it a little bit more convenient for the client," he says. "We can offer ... cataract surgery, glaucoma surgery, things like that which, beforehand, the eye was removed or it just remained blind. So there are certainly a lot more visual dogs and cats and horses running around because we are able to offer the newer technology."
Collinson says that cataract surgery is one of the most satisfying surgeries he performs. It's also one of the most expensive — costing $3500 if both eyes are fixed in one sitting. The price increases to $4500 if new lenses are also put in. The prosthetic lenses are imported from France and are so effective at restoring eyesight that Collinson jokes they're "for those clients who want the dogs to be able to read the newspaper after surgery."
He credits the internet for the surge in consumer demand and interest in cutting-edge animal procedures. "People are becoming much more educated about what's available," he says. "And pets are becoming more important or higher up in the whole scheme of things, so clients are requesting, if not demanding, the best possible treatment."
As well as cataract and glaucoma surgery, Collinson also does corneal grafting and reconstructive plastic surgery following trauma — such as when "a dog's been in an accident and its face is still on the concrete." He also fixes bad conformation "where their eyelids roll in or are painful."
In Collinson's line of work, it's not always easy to judge categorically whether an operation is cosmetic. On the one hand, he says, pain can often be sorted in a rudimentary fashion by simply removing the eye, stitching the eyelids shut — giving a less-than- attractive result. "Or you can do what's called an intrascleral prosthesis which is a much more involved surgery and it leaves the shell of the eye there and ... it looks like they've still got an eye," he says. "It's a much bigger surgery and you could say: 'yes, it is a cosmetic surgery' but the eye still needed to be removed for pain. But you've done a more cosmetic job. It becomes a bit of a grey area."
Jacqui Law, 34, a pony breeder from Taihape, understands those grey areas. In 2007 she made a shocking discovery when she went out to the paddock to see Belle, her daughter's cherished liver chestnut Welsh-Arab mare. "Virtually the insides of her right eyeball were hanging out," says Law. "What they discovered ... was the iris was hanging out through a split in the cornea."
No one's certain what caused Belle's eye injury. The local vet could have removed the damaged eye for around $500 but Law opted to call in Craig Irving, a Palmerston North-based veterinary ophthalmologist, who repaired it in a complicated procedure under general anaesthetic. The eyesight was not able to be saved but aesthetically the pony "virtually looks normal," says Law, who believes the $2500 cost of the cosmetic surgery was money well spent. "It seemed like a heap of money at the time and we thought: 'oh, should we do this and will it be worth it?'" she says. "[But] I've seen a few horses with no eye there and that's not very pretty to look at and she would have been kept right out of the show ring."
Richard Lucy, who completed his post-graduate training in Britain, is New Zealand's only veterinary cardiologist. He's now based in Hamilton at The Pet Practice, where ultrasound costing about $400 is used to determine many of his canine and feline patients' heart problems. There are two main surgical procedures Lucy, all garbed up in gown, mask, gloves and hat, does, each costing about $4000. He performs a type of open heart surgery with patent ductus arteriosus (PDA) repairs and, in a procedure identical to the human version, also fits pacemakers to correct a heart's rhythm. Afterwards, the patients are usually kept in intensive care for a couple of days.
"And they get very specialised intravenous pain relief and they also get oxygen supplementation," says Lucy. "But they bounce back an awful lot more quickly than people with a similar sort of condition. So animals certainly seem a lot more stoic than what humans are; animals are better at hiding their pain."
The small size of the patient is a particular challenge for the heart surgeon. "In a little dog or cat weighing 2kg the heart might only be 2cm or 3cm long," he says. An animal's fast heart-rate (up to 200 beats per minute in cats) also makes it "a lot harder, not only to manipulate surgically, but also to actually do the diagnostic work as well."
Based on veterinary trends overseas, Lucy picks that in the future he'll also be repairing leaky heart valves in his operating theatre. It's a procedure that requires a full cardiac bypass — using a machine to keep the body alive while the heart's not pumping — involving a large team including anaesthetists and perfusionists. That's good news for cavalier King Charles spaniels, a breed Lucy says is prone to valve disease.
SPCA executive director Bob Kerridge is wholeheartedly in favour of veterinary medical and surgical advances that can restore an animal's quality of life. "Just as we [humans] have our wonderful specialists that can help us with serious problems or prolong our lives, it's the same for animals and it shouldn't be any different." He encourages owners to take out pet insurance to cover accidents, hospitalisation and so on.
Cosmetic surgery, however, does not meet with Kerridge's approval. "We're totally opposed to that, always have been. Any operation that is performed on an animal must be in that animal's interests — not in the way it's going to look, not in the way some judge is going to look at it, not in the way that is fashionable."
There have been overseas reports of dogs having facelifts. One Brazilian pet plastic surgeon performed a canine "mammary lift" after feeding her puppies left a dog with droopy breasts. Closer to home, there have been instances of Auckland veterinarians being asked to surgically assist a dog's ears to be permanently pricked. Most, but evidently not all, local veterinarians will refuse to operate purely for cosmetic purposes.
Gareth Dunkerley, a general practice veterinarian at the Ponsonby Veterinary Centre, won't operate on a pet for aesthetic reasons alone. "We won't even do docking of tails anymore because we just don't approve of any of those sorts of procedures," he says. "We'll only do things for a medical reason. We won"t do any sort of purely cosmetic procedures."
The Ponsonby Veterinary Centre was featured in a 3News item in December last year for an unusual operation they performed on a great dane called Muzza. The dog's owners were concerned that castration would compromise his "manliness", so plastic "testicles" were implanted following his castration to remedy the resulting sagginess. Some veterinarians justify such implants on the basis that they allay the fears of "neuter-hesitant" owners and enable the required castration to proceed.
While Kerridge is a strong advocate of de-sexing, he doesn't approve of any associated cosmetic enhancements. "[De-sexing] is one operation that every animal should have and I don't think they need any other attachments and adornments to pretend that they haven't had it."
Animal hospital
Cancer
Treatment can involve MRI or CT scans, surgical removal of tissue and a short or long course of chemotherapy or radiotherapy.
Cost: $2500-$10,000
Eye surgery
Cataract removal is becoming increasingly common.
Cost: $3500-$4500
Open heart surgery
Canine and feline heart problems can now often be treated with a type of open heart surgery. Also, in a procedure identical to the human version, pacemakers can be fitted to correct an animal's heart rhythm.
Cost: Around $4000
Orthopaedics
Dog hip replacements are widespread and complicated fracture repairs are one of the most common procedures for cats and dogs.
Cost: $4000-$7000
Cosmetic
Fake testicles were implanted in a great dane last year to improve his "manliness" after castration. It is also becoming common for fake eyes to be implanted in horses, dogs and cats when they lose their sight.
Cost: $1000-$1500