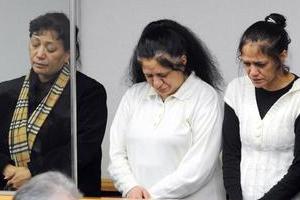 The five people convicted of the manslaughter of Janet Moses during a curse lifting ceremony have avoided jail terms.
The five were sentenced by Justice Simon France in the High Court at Wellington today. There were tears from the dock and applause from the public gallery as community detention and community work sentences were imposed.
Ms Moses, a 22-year-old mother-of-two, died in Wainuiomata in October 2007 after attempts by members of her whanau to lift what they believed was a makutu, or curse, on her.
John Tahana Rawiri, 49, and Glenys Lynette White, 52, were sentenced to six months community detention, with a daily curfew of 9pm to 6am applicable from August 28. They were also sentenced to 300 hours of community work and supervision for 12 months.
Special conditions included undertaking a tikanga Maori programme, education as directed by the probation service and counselling or psychiatric assessment as directed by the service.
Aroha Gwendoline Wharepapa, 48, and Tanginoa Apanui, 42, were sentenced to 300 hours community work and 12 months supervision with the tikanga Maori and counselling or psychiatric counselling conditions imposed.
Angela Orupe, 36, was sentenced to 150 hours community work, six months supervision, with the counselling or psychiatric assessment conditions.
All had been found guilty of manslaughter after a six-week trial. Three others were found not guilty and a ninth defendant was discharged after Justice France said there was not enough evidence to charge her.
A man and woman with permanent name suppression who denied wilful cruelty towards a 14-year-old girl during the makutu lifting were found not guilty.
The court had been told the family believed Ms Moses had been possessed by demons after two family members stole a concrete lion statue from a hotel in Greytown, in Wairarapa.
Water was forced into her mouth and eyes to flush out demons and lift the makutu.
Ms Moses drowned and the 14-year-old girl's eyes were injured as people picked at the demons they saw in them.
- NZPA