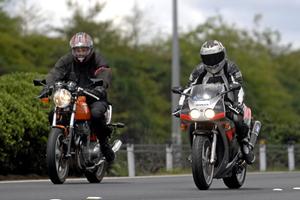 Drivers will be banned from using cellphones in their vehicles from November under new rules that will also require motorcyclists to use their headlights during the day.
Transport Minister Steven Joyce announced yesterday that also from November, drivers talking or texting while at the wheel would face fines of $80 and would receive 20 demerit points.
Motorcyclists could be fined $100 for driving without headlights on during the day.
Drivers can have their licences suspended for three months if they accumulate 100 or more demerit points within two years.
Transport Ministry figures show the number of motorcyclists killed or injured rose 48 per cent in two years, from 896 in 2005 to 1328 in 2007.
Mr Joyce welcomed the new motorcycle regulations.
"The number of motorcycle crashes has increased rapidly in recent years as motorcycle use has grown in popularity again.
"This requirement will help to ensure that motorcyclists are visible to other road users."
The tough new cellphone laws surprised AA spokesman Mike Noon, whose organisation had supported a ban, but suggested a more modest $50 fine and 10 demerit points.
He was philosophical about the new cellphone fines.
"If that's what it takes to get the message across, then maybe that's a good thing because we certainly don't want people texting and we don't want people using hand-held phones."
The previous Labour-led Government had proposed a $50 fine and 25 demerit points.
Mr Joyce acknowledged that raising the monetary penalty ran against a general trend towards reducing fines in favour of demerit points.
That had been done to counter public perceptions that road safety enforcement "is some sort of revenue collection system, which it is not".
"We need to send a strong signal to all road users that it's not on."
The cellphone penalties will be the same as those for driving between 11km/h and 15km/h above the speed limit.
Mr Joyce said mobile phones or other telecommunications devices were a contributing factor in 482 injury crashes and 25 fatal smashes between 2003 and last year.
He expected the ban to be widely accepted, as 76 per cent of surveyed AA members and 86 per cent of respondents to a Research New Zealand poll had favoured such a move.
The ban is a safety compromise, as drivers will be able to use hands-free phones or two-way radio systems, and there will be exemptions for 111 calls made in emergencies.
Mr Joyce said that was because many business and tradespeople depended for their livelihood on being available to take phone calls.
He understood hands-free phones were less distracting to operate than hand-held versions.
But he said hands-free users should still pull over to make or receive calls whenever possible.
Waikato University road safety researcher Associate Professor Sam Charlton praised the minister for banning drivers from using at least hand-held phones.
But he said international research over the past five years had found hands-free phones to be equally asdangerous.
That was because of the diversion of attention demanded by any form of phone conversation in which the other party was unaware of road hazards facing the driver.
But Business New Zealand chief executive Phil O'Reilly considered the ban a "sensible compromise", as many self-employed people needed to be available to customers.
That meant being able to receive calls in their vehicles, while taking care not to put themselves out of business by causing road crashes.
BMW spokesman Piers Scott said all new vehicles supplied by the company had fittings for hands-free phones, and any staff members caught using a hand-held version while driving would lose the use of company cars.
DRIVING PENALTIES
* Using a phone, $80 fine and 20 demerit points
* Speeding (starts at) $80, 10 demerit points
* Riding a motorcycle without a headlight, $100.
* Not wearing a seatbelt, $150
* Not carrying a driver's licence, $55
* Not holding a current driver's licence, $400