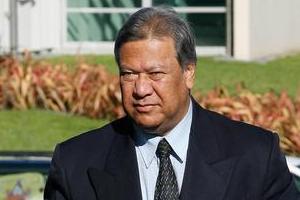 Taito Phillip Field created history in 1993, when he became the first Pacific Islander to be elected a New Zealand member of Parliament.
Today he created history again, for the much less savoury reason of becoming the first New Zealand politician found guilty of bribery and corruption as an MP.
The verdict of the jury, which also found him guilty of wilfully attempting to obstruct or pervert the course of justice, marked the lowest point in the life of Phillip Hans Field, 56, who first came to New Zealand at the age of seven.
His parents emigrated from Western Samoa when he was six months old. He came by boat to New Zealand himself seven years later, in 1959 and later said "you could compare it to being blasted from Earth and taken to a new planet".
As with many immigrants, Field lost his native language while growing up in New Zealand, but he relearnt Samoan at the age of 19.
He went to Victoria University in Wellington and became a Treasury clerk before returning back to Western Samoa. He came back to New Zealand in 1975, the year he was bestowed with the Samoan chiefly title of Taito by the village of Manase, on the island of Savai'i.
That year he worked in meatworks at Petone. The following year he became a meatworkers' union official, and he joined the Labour Party.
In the early 1990s, he was a Service Workers Union official, and in 1993 he became MP for Otara, in South Auckland.
At the following election in 1996, the first MMP election, he took over former Prime Minister David Lange's seat of Mangere.
Mr Lange and his wife Margaret Pope initially liked Field, attending his wedding to his second wife, Maxine Jennings-Field.
But Ms Pope said in September 2006 that Mr Lange had thought "that Phillip Field was simply not up to the job of being an electorate MP".
Clearly, voters in Mangere disagreed, consistently returning him with huge majorities.
Field, who was a patron of an array of student and sporting organisations in Auckland and his electorate, also became the first Pacific Islander to hold ministerial office in 2002.
That year he became a minister outside Cabinet when he was made Parliamentary undersecretary for Pacific Island Affairs, Ministry of Justice, and Ministry of Social Development and Employment.
It was also around that time that Field began contact with the Thai immigrants that would lead to his downfall.
Field offered tradesman Sompong Srikaew and his wife Phisamai Phothisarn his rental place at 15 Prangley Ave, Mangere after they approached him saying they were due be removed from New Zealand.
While there they did some work on his place, which Field later paid them for. They were then part of a group of Thai people which went to Wellington the next year, and while there they worked on his Wellington home in suburban Strathmore.
Field became known in the Thai community as someone who cared for them and his goodwill became as such that one woman among them, Jinda Thaivichit, set up a Thai branch of the Mangere Labour Party.
It was in 2003, the Crown says, that Field began illegally accepting work from several Thai tradesmen, work which it says eventually encompassed four of his New Zealand houses and one in Samoa, in return for immigration assistance.
Field said he always intended to pay full value for the work, and that he expected to be billed. The Crown said he knew no payment would be forthcoming and still accepted it corruptly.
During that time Field sold several of the properties the Thai tradesmen had worked on, making a substantial profit.
The allegations against Field were first aired shortly before the election in 2005, in which Field won Mangere with a whopping 16,020 majority.
But the allegations resulted in Prime Minister Helen Clark ordering an inquiry by Noel Ingram, QC, and the ending of his ministerial position.
Field said he thought it was a limited inquiry focused on his activities as a minister, only to discover it was spread to include his other dealings with the Thais. The Crown alleged he was so concerned, he then took steps to derail the inquiry.
It said he created a number of false documents relating to payments made on the properties, lied to the Ingram inquiry, and got others to lie to it for him.
Ms Thaivichit told the court she talked to Field the day before her interview was scheduled and discussed questions which Field himself had answered before Dr Ingram.
She said that Field told her about answers he had given Dr Ingram, "and Taito wanted me to answer the same things" as it was important that their answers were consistent.
Field said he did not ask Ms Thaivichit to lie, saying the way to get consistency would have been to tell the truth.
He did admit he wasn't as frank to Dr Ingram as he might have been due to his perception that his inquiries were going outside his terms of reference.
He also admitted he created documents in the lead-up to the inquiry, but says he was only trying to document events which had already happened, not to try to mislead the inquiry.
In early 2008, Field left the Labour Party before he was set to be expelled, after saying he would contest Mangere in 2008 even if Labour didn't select him.
Shortly afterwards he formed the Pacific Party, campaigning on Christian and family values and social justice, but with the allegations hanging over his head he was beaten by Labour's Sua William Sio by more than 6000 votes.
Now, a court has shunted him further to the outskirts of society, judging him to be an guilty man.
- NZPA