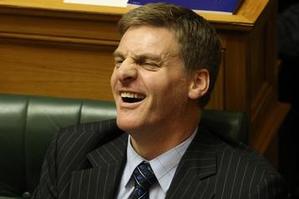 Finance Minister Bill English is defending taxpayers paying more than $900 a week for his $1.2 million family home in Wellington, saying National has capped how much ministers can claim.
Prime Minister John Key and Parliament's Speaker, Lockwood Smith, disclosed MPs' travel and accommodation expenses for the first time this week - the outcome of a Herald on Sunday investigation.
Ousted minister Richard Worth, in his first interview since resigning, said he too had done nothing wrong in claiming thousands in Wellington accommodation costs from both Parliament and Ministerial Services.
The two big parties had come under pressure to disclose their expenses after Green and Act MPs disclosed theirs through the pages of this newspaper. National and Labour said that MPs would come under intense political scrutiny over the spending, to the detriment of bigger issues of public policy.
And yesterday English found his speech to the National Party's annual conference in Christchurch overshadowed by questions about his accommodation costs.
His taxpayer subsidy this year is double what he was able to claim last year as an opposition MP, and comes as he calls for spending restraint and value for money in the public service.
National says the payments are within the rules. "You get the same amount whether you have a minister by themselves or with six kids and it's all transparent," English said.
English and his wife, Mary, bought their Karori home for $800,000 in 2003, but in March this year the title was transferred to Mary English alone.
Bill English said the home, now worth an estimated $1.2 million, was always owned by a family trust. The figures show English claimed $23,763 for Wellington accommodation costs in the first six months of the year. As deputy prime minister, his salary is $276,700.
Worth also claimed $7744 in ministerial housing costs this year - as well as $3271 in MPs' housing expenses, usually paid only to backbenchers and opposition MPs.
Until his resignation on June 3, Worth was minister in charge of the Internal Affairs Department, which manages ministers' expenses.
"There has been no double-claiming," Worth told the Herald on Sunday yesterday. "These issues were dealt with by my secretary. I can't really shed any light on it."
Ministerial Services spokesman Colin Feslier said the Department of Internal Affairs had not yet been able to check the files, but was confident that ministers would not have been able to claim twice.
"There shouldn't be any concurrent payment, but there may be possible consecutive payments for people who were ministers for part of the time, MPs for part of the time."
Worth and his wife Lynne have returned to their Remuera home, where he has tried to avoid the public gaze.
He declined to discuss a Korean woman's complaint that he had behaved inappropriately towards her.
Courts Minister Georgina te Heuheu and Foreign Affairs Minister Murray McCully have also claimed several thousand dollars from both Ministerial and Parliamentary Services for their Wellington homes. Te Heuheu said that was because she had recently moved from her MP's flat to her ministerial flat, and the paperwork had not caught up. McCully could not be reached for comment.
- HERALD ON SUNDAY STAFF, NZPA