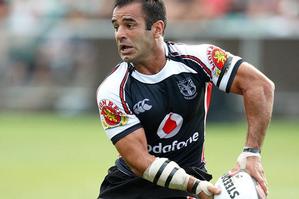 Three league stars, two Rich List businessmen and one bank were the unwitting victims of a $5.7 million fraud.
Companies owned by Hanover Finance directors Eric Watson and Mark Hotchin, as well as ex-Kiwi league players Stacey Jones, Monty Betham and Awen Guttenbeil, were targeted by a former employee, Scott Alwyn Mackenzie.
Mackenzie, 29, pleaded guilty to 10 charges laid by the Serious Fraud Office in the Auckland District Court this week and was remanded in custody.
He worked as a property manager for Omara Property Group, owned by Mr Watson and Mr Hotchin, for 2 years after providing a false employment history. During that time, Mackenzie used 129 false invoices to funnel $1.6 million from the Omara Property Group, or related companies, into three companies he controlled.
Between March 2006 and August 2008, he incorporated CC Construction, Ward New Zealand and Matassa, named after companies providing genuine services to Omara.
He was caught in August last year when he submitted an invoice from CC Construction for $24,750. This was queried by Omara management because the invoice asked for electronic payment, rather than a cheque.
The bank account quoted on the invoice matched an account based in Auckland, not in Christchurch where Omara believed CC Construction had its headquarters.
Mr Hotchin did not return Weekend Herald messages.
Of the $1.6 million taken, nearly $140,000 of false invoices were paid by 520 Queen St Holdings, of which AMS Holdings - jointly owned by Jones, Betham and Guttenbeil - is a shareholder. Betham and Guttenbeil are also listed as directors.
Mackenzie also admitted a $3.5 million mortgage fraud of the BNZ. He bought eight properties with loans from the BNZ, six of those with false or forged documents as proof of income. He also made a false GST return.