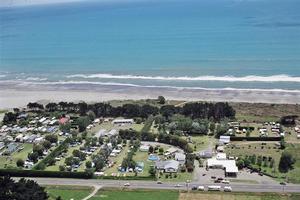 The property slump has killed the stampede for coastal land and appears to have put camping grounds out of developers' reach.
A Bay of Plenty waterfront camping ground expected to be snapped up for housing months ago is still begging for buyers.
The 5.6ha Tirohanga Motor Camp on a 450m stretch of beachfront has been on the market for the past four months and agents are citing that no-sale as an example of the end of the waterfront land grab.
The McLellan family have owned and run the site near Opotiki for the past 33 years but in early May they said they were resigned to their classic coastal camp becoming an exclusive housing development. Robert and Glennis McLellan expected rich developers arriving with fat chequebooks and paying more than $3 million.
Bayleys agent Duncan Dysart said in May that it was possible investors would buy the campground and cut it up for holiday homes.
"The 5.66 hectare area of the land far exceeds the land required for a campground," Mr Dysart said. "This offers potential for expansion or alternative uses for the land. One such use could be the development of accommodation for the local kiwifruit industry seasonal workers. As well as the caravan sites, tent sites, two bedroom tourist flats and cabins, the property comes with improvements including a recently refurbished modern four bedroom family home and office providing manager's accommodation. The camp is just minutes from shopping, cafes, and a 18 hole golf course."
The couple have now resorted to marketing the place themselves although Bayleys said this week the property had drawn some interest and negotiations were continuing over its sale.
But expectations of the new owner being a rich investor or developer have come to nought and some people say the McLellans will be lucky to get $2 million for the land. A shortage of cash, fears about carving up a coastal campground and doubts about getting the land rezoned have all put off buyers.
Mr Dysart said the downturn made it much harder to sell coastal land and a housing subdivision on the northern outskirts of Opotiki had a number of unsold sections.
Economics researcher Rodney Dickens, from Whangarei-based Strategic Risk Analysis, found last year that Mangawhai had a "sea" of 450 unsold sections and said the speculative excesses of an investor-led boom were to blame for such situations. He has long argued that there has been a speculative bubble in coastal property prices, particularly sections.
David McEwen of IRG said he noticed about 100 sections for sale at Papamoa.
The camping ground near Opotiki has joined other holiday parks languishing on the market which include:
* The 150-site 5.9ha Shelly BeachTop 10 Holiday Park in the Coromandel, on the market for $4.5 million since April.
* A Taupo holiday park 3km from the town, which is being advertised at $2.9 million. It has 71 caravan/camper van sites, nine tent sites, six cabins and four deluxe cabins with toilet and bathroom.
* Jacksons Retreat Holiday Park, Lake Brunner, West Coast, advertised since last October for $1.6 million.
* Chartridge Holiday Park in Havelock, Marlborough, for sale since March for $749,000.
The Department of Conservation opened six new camping grounds last summer.
A spokesman said the department had also upgraded a large number of campgrounds and was attempting to increase New Zealanders' access to great camping experiences.