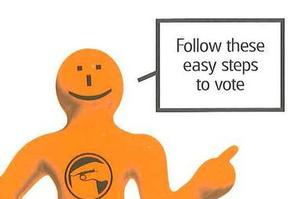 A record roll of just over 3 million New Zealanders will start receiving voting papers today for the country's first citizens-initiated referendum to be conducted by postal vote.
The ballot, asking whether smacking should be a criminal offence, raised fears yesterday that enthusiasts on both sides may try to corrupt the vote by stealing voting papers from letterboxes over the next few days.
Chief Electoral Officer Robert Peden urged voters to alert him to any possible interference by ringing his office's tollfree number if they have not received voting papers by next week.
He warned that anyone interfering with ballot papers faced a fine of up to $40,000 or up to two years in jail.
"If you go round and pick up voting papers, people will realise that they haven't got their voting paper and the original voting paper will be cancelled," Mr Peden said.
"Each voting paper is personalised. It's not obvious to the naked eye - it's in a barcode to protect people's privacy.
"If you don't get your paper, or make a mistake on it that can't be corrected, you can apply for a replacement ... but if you do get a replacement voting paper the effect will be to cancel your original voting paper," Mr Peden said.
The controversial $9 million referendum is being held by postal vote after the Labour Government decided not to hold it in conjunction with the general election last November.
Family First director Bob McCoskrie, who helped to gather the 300,000 signatures required to obtain a citizens-initiated vote, said the whole campaign was timed for the election.
He said Prime Minister John Key had also tried to undermine the referendum by questioning its wording, but heavy enrolments suggested his comments had backfired.
"I think it actually rarked people up again," Mr McCoskrie said. "They thought, 'Here we go again, nobody's listening.' So what I'm picking up is that there's a mood to send a strong message."
"Yes Vote" spokeswoman Deborah Morris-Travers also urged people to vote. "There's been a lot of talk about people abstaining or possibly even spoiling their vote, but I think it is important for people to vote because it's an issue that is fundamental to the wellbeing of children and of families and society."
Electoral Enrolment Centre manager Murray Wicks said enrolments by Wednesday night were up by 11,600 from the general election, just topping the 3 million mark for the first time.
However, the eligible population has grown even faster, so the number enrolled represents only 94.5 per cent of those eligible, compared with 95.3 per cent in the election.
Mr Wicks said personalised voting papers were in postal centres last night ready to be delivered from today to everyone who had enrolled by Friday, July 10.
Those who enrolled from then until enrolments closed yesterday will receive their papers next week.
Voting closes at 7pm on Friday, August 21.
Mr Peden expects to have a preliminary result by 8.30 that night.
Chief Electoral Office: 0800-36-76-56, www.elections.org.nz