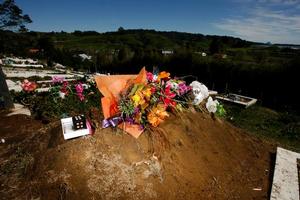 Grief for the Tuhoe family of James Takamore cannot be avoided, says High Court judge Justice John Fogarty in a decision effectively returning the man's body to his Christchurch widow.
The decision suggests the tribe may need to adapt its customs in cases where decisions are made about the burial of family members of Tuhoe descent who have been living outside tribal life, the Christchurch Court News website reports.
Justice Fogarty's reserved decision released today invites the Tuhoe family to arrange for Mr Takamore's body to be disinterred from its burial place in the Bay of Plenty and returned to his widow Denise Clarke to be reburied in Christchurch, apparently in accordance with Mr Takamore's own wishes.
The judge said there was no doubt that the Takamore whanau could, if they had the support of other members of the Tuhoe iwi, return the body (tupapaku) of Mr Takamore to his life-long partner, Ms Clarke, and his children Jamie and Jenna.
"There is no doubt that this would cause grief to his mother, Mrs Nehutua Takamore and his sister Ms Josephine Takamore. There is no avoiding that," he continued.
"Grief is inescapable but it is my judgment that the law says that on the facts of this case Ms Clarke is entitled to possession of the tupapaku of the late Mr Jim Takamore.
"I invite the first defendants (Mr Takamore's mother and sister) and other members of their whanau and hapu to arrange for the disinterrment of the tupapaku and return it to Ms Clarke."
Ms Clarke - executor and sole trustee of Mr Takamore's will - had sought an order to have his body returned to her for reburial in Christchurch during a civil case hearing in the High Court at Christchurch two weeks ago.
Justice Fogarty's decision adjourned the proceedings but urged the parties to continue discussions.
He reserved leave to make a further application for remedies, presumably if the discussions do not reach a settlement.
The body was whisked out of Christchurch in a van overnight by Mr Takamore's Tuhoe family after a row developed between them and Ms Clarke and her family at the marae in the days after his death.
The Tuhoe family members acknowledged at the hearing that they had come south expecting trouble from police and from the Christchurch family.
An injunction was obtained by Ms Clarke but was too late to stop the burial at Kutarere Marae in Opotiki in the Bay of Plenty where Mr Takamore now lies beside his father and among other family members.
The court heard evidence that he told friends and workmates that he wanted to be buried at the Ruru Lawn Cemetery in Christchurch.
It also heard that there had been a rift in the family when he moved south to live in Christchurch 20 years ago.
Justice Fogarty noted evidence that he told a friend that he was now a "South Island Maori" and that he did not like the way his family lived in the North Island.
He told another friend that his home was now in Christchurch and he intended to stay there and that he had said, "I got out of all that bloody rubbish".
Justice Fogarty said that seemed to refer vaguely to the traditions of his tribe in the North Island. The evidence was received without challenge.
It was clear from the evidence that according to Tuhoe tradition it did not matter how or where the tribal member lived. The decision about the burial place was a collective one.
"On the evidence I have heard, Tuhoe tikanga (tradition) in its current form, has not adapted to accommodate a personal right on the part of an individual of Tuhoe descent, living outside tribal life, to make decisions for him or herself, or for their immediate family to make decisions on their own behalf, as to where his or her body is to be buried," Justice Fogarty said.
"This is not to say that Tuhoe tikanga may not adapt in that direction in the future. That, however, is a matter for Tuhoe and not a matter for this court."
- NZPA