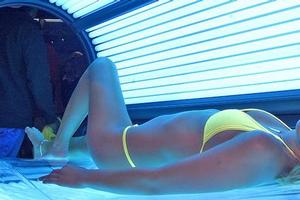 Tanning beds and other sources of ultraviolet radiation definitely cause cancer, say international experts who regard them as being as dangerous as arsenic and mustard gas.
Scientists have previously described ultraviolet radiation produced by tanning beds as a "probable carcinogen".
But yesterday, the International Agency for Research on Cancer reclassified it as carcinogenic to humans, the highest risk category for causing cancer. That rank also includes tobacco and asbestos.
Some countries regulate the multi-billion dollar indoor-tanning industry, sometimes banning teens from using sunbeds or requiring consent from their parents or doctor.
In New Zealand, 8 per cent of the population report using sunbeds. This country has one of the world's highest incidence rates of malignant melanoma, the most serious skin cancer. Each year around 2000 new cases and 250 deaths are reported.
Experts assembled by the France-based agency, part of the World Health Organisation, concluded in an analysis of around 20 studies that the risk of skin cancer increased by 75 per cent when people started using tanning beds before age 30.
In a report in the Lancet Oncology journal, they said all types of ultraviolet radiation - the sun is the main source - caused worrying mutations in mice, proof it is carcinogenic.
"People need to be reminded of the risks of sunbeds," said Vincent Cogliano, one of the researchers. "We hope the prevailing culture will change so teens don't think they need to use sunbeds to get a tan."
New Zealand's Cancer Society hailed the reclassification.
"The society is pleased to see this, especially if it does bring the seriousness of the issue to the Government's attention," said the society's skin cancer adviser, Dr Judith Galtry.
The industry operates under a voluntary code, which includes a minimum age of 18, but the society considers this "toothless" and wants the Government to regulate solariums and ban their use by those under 18.
Dr Galtry said the code also excluded people whose skin always burned, required operators be properly trained in using the equipment and assessing skin types, and required use of protective eye-wear.
Health Minister Tony Ryall's office said his ministry was planning a survey of industry compliance with the code. Officials would then brief the minister on any action required.
Tiffany Brown, of the Indoor Tanning Association, said people knew ultraviolet radiation was potentially carcinogenic, which made it important to manage and moderate exposure.
"That's where good indoor tanning clinics play a vital role, such as our successful sunburn prevention programmes."
- ADDITIONAL REPORTING: AGENCIES