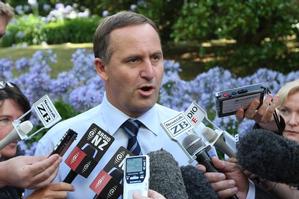 Prime Minister John Key says the likely decision to send the SAS back into Afghanistan is a "line-ball call", and he is worried about one of the elite combat troops being killed.
The major parties emerged split on the decision yesterday - Mr Key's National Government has indicated the elite troops will go back to fight the Taleban, but Labour wants to keep them out of the war this time around.
Mr Key's description of the decision as a line-ball call shows the concerns the Government has about casualties and public opinion swinging against New Zealand's involvement.
Mr Key yesterday said he would place a caveat on the SAS being put in a dangerous "mentoring" role partly because he was worried about one being killed.
The US military has said the SAS would be ideally suited to Operational Mentor and Liaison Teams, dubbed "omelettes", where they would train Afghan troops and fight alongside them.
The role is dangerous because the SAS would be teamed with their less-able Afghan counterparts, but important because it implements the US-led international force's exit strategy of training up Afghanistan's Army and police so they can leave.
Mr Key's caveat would see the SAS performing similar duties to those on its three previous missions, in which no lives were lost and Willie Apiata received the VC for his heroism.
But such a role still puts lives at risk - three of Australia's 11 casualties in the war have been SAS soldiers.
Despite the emphasis on training as part of the exit strategy, the war is in one of its fiercest stages and the special forces expertise of the SAS would be valued in whatever capacity on the battlefield.
Mr Key has also said he wants to wind up the Provincial Reconstruction team in Bamiyan province.
Labour leader Phil Goff said he would prefer that other New Zealand troops were sent to focus on training the Afghan Army and police. Labour also wants to leave Bamiyan.
Labour previously sent the SAS to Afghanistan three times. Mr Goff said that was at a "different time" in the war, and he believed New Zealand trainers would make more difference than a small combat force.
"It is about what we do now, seven or eight years into the war, to enable the exit strategy to occur and leave the Afghans able to look after their own affairs."
Mr Goff believed New Zealand had "pulled its weight" in the war.
The Government is due to make a decision on its commitments within three weeks.
* Two positions
NATIONAL: Likely to send back the SAS. Wants caveat on their tasks so they don't do mentoring. Get out of Bamiyan Province.
LABOUR: Don't send the SAS. Use other troops to help train up Afghan Army and police. Get out of Bamiyan.